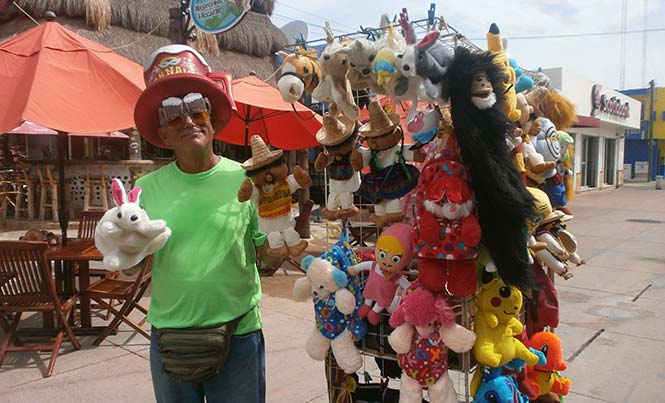 There is a locally famous man in Cozumel named Jose Aurelio Hernandez, but everybody calls him Pepe Puppets or Pepeluche. You have probably seen him or been surprised by one of his favorite jokes, which involves slipping one of his puppets by your neck when you are not looking.
This humble man, who speaks perfect English, has been selling his puppets out on Fifth Avenue under the sun for more than twenty-one years. I spoke with Pepe to find out more about him.  
Playa Times: Hello Pepe, please share a little bit of your life experience with us today. Who makes the famous puppets?
Pepe Puppets: My wife Carmen Martinis is the artist, I'm just the street entertainer. I was born in Mexico city and I arrived in Cozumel thirty years ago. I fell in love with this island. I have experienced some great moments and met some amazing people here.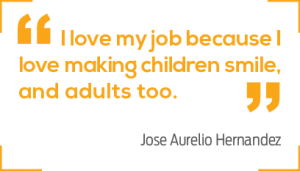 I will always remember one day, it was about 15 years ago, this man from the United States bought about 10 puppets and then gave me a big tip and asked me to offer puppets to the next children that I met that day.
I love my job because I enjoy making children smile, and adults too. Sometimes when I see children playing videogames, I like to come behind them with one of my puppets and make them smile for a few minutes to keep them in the real world.
Do you have a favorite puppet?
Yes, I like Mister Rabbit because he was my first puppet. I also love the little Mexican puppet, the famous one who has a lot of success with the tourists. These ones are the last ones, unfortunately, as my wife does not want to make puppets anymore.
Please let us know where we can find you
On Fifth Avenue from 10 a.m. till 2 p.m. in the main square. Just ask for Pepe Puppet.
I watch him leave with a little bit of nostalgia, still happy even if the production of his puppets is now over. Pepe Puppet made his life count for all the inhabitants of Cozumel. Before leaving the island, make sure to look for him. You can also contact Jose Aurelio Hernandez at 9871026760.