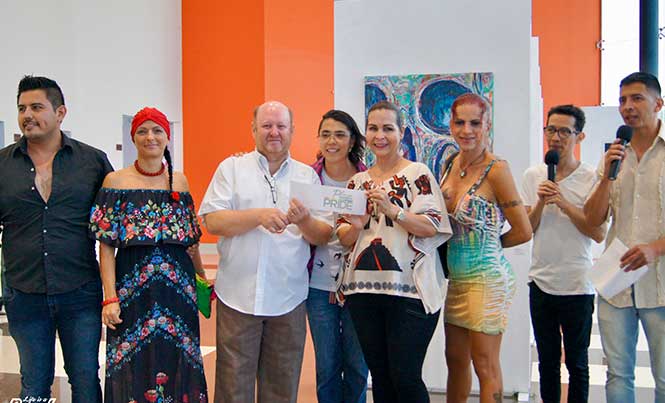 A week of events took place in Playa celebrating LGBT communities locally and worldwide
On Wednesday, June 14 Jan Novak and Norma Angélica cut the ribbon to officially launch Playa Pride with an inauguration of the exhibition 'Unidos en Colores" at the Teatro de la Ciudad. Around 8 p.m. everyone sat comfortably in the theater to watch the dance piece 'POSDATA' from Silla Movil. It tells a story of love between two human beings, expressed through modern dance, and it was captivating.
Thursday was a big day because for the first time in the history of Playa del Carmen, we hung the gay flag on the city hall. It was a huge achievement and I must say, not everyone was happy about it. The reason it is so important for members of the LGBT community is because of the discrimination people experience on a daily basis. Some heterosexual people complain by saying that they don't hang their flag for the world to see. That is true. However, in general, people don't get discriminated against because they are straight. This is why we do what we do, to be equal to everyone. It is not about being better, just equal and respected.
At night, one of the most successful parties of the week took place. LesMex had more than a hundred people in attendance. DJ Kayssy from Montreal was on fire and the crowd had a blast on the dancefloor! Everyone was pleased with the announcement of the new event beginning on Friday June 23: LGBT Fridays at Mexican Caribe on 1st Avenue and Calle 26.
It was an all-day event at Reina Roja with the bear pool party during the day and the drag queen night show at night. Even the rain didn't steal the drags' thunder!
Saturday was delightful. The parade started a little after 5 p.m. at the Poliforum, on Avenida Benito Juarez, and went all the way to 10th Avenue and on to the city hall. For the first time ever there were more women in attendance than men, so thank you to all the ladies who joined Playa Pride and LesMex to march.
The closing concert in Plaza 28 de Julio saw artists Morganna Love, Eduardo Togi and Elaine Mercedes Mendoza entertain the crowd. What a great show!
Sunday was the closing pool party at Reina Roja, a well-deserved, relaxing and laid back sunny afternoon after a busy and successful week. See you all next year.