Playa del Carmen
Discover Mexico
A Day of Wonders and Adventure in the Heart of the Maya Jungle
The Tulum - Jungla Maya Native Park tour, an experience of a lifetime!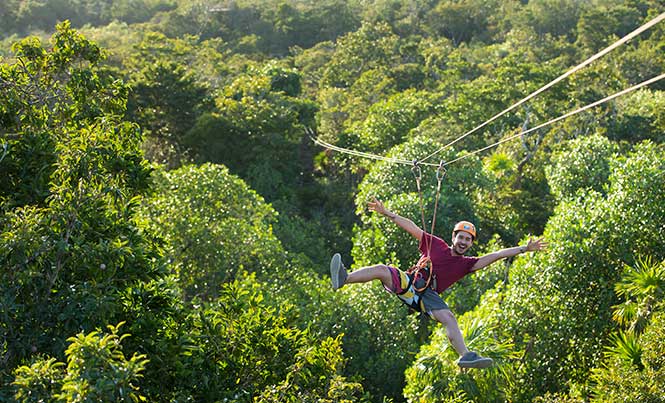 I decided to take the Tulum – Jungla Maya Native Park tour because of its amazing range of attractions: an archaeological excursion, an adventure park and traditional Maya food, all in one day. It was something I definitely wanted to experience!
A Journey Begins
In this beautiful part of ​​Mexico, dawn breaks early, and everything begins to come to life. Manuel, my Alltournative guide, picked me up and I joined an intimate group of 10.
"Our expeditions are with a small number of visitors because in this way the service is personal and we make sure each of you enjoys a complete experience, not in a hurry, or in a superficial way. We take the time to live this bit of the Maya world".
Never before had I felt that warmth and professionalism in a tour.
Tulum
We arrived in Tulum, and my mind was just blown. This important Maya city, built many centuries ago, is truly impressive. The ruins are situated atop 12-meter (39 ft) cliffs on the the Caribbean coast – a very special landscape.
Jungla Maya Native Park
I sat next to the driver of the Unimog 4×4 Mercedes Benz and the adventure started. The park maintains a policy of effective environmental care; to avoid contaminating rivers and cenotes, we removed all residue from our bodies with a quick fresh shower.
First stop, was a cave as old as the land itself, where a Maya priest purified us and asked the Maya gods for permission to embark on our adventure. I felt a deep spiritual connection.
Manuel then led us to the entrance of the Yaxmuul Cenote, which descends into crystal-clear blue waters. I felt like an explorer entering the depths of the earth. Awesome!
Then, we walked to the first zipline route station. Imagine flying for 250 meters at a height of  9 meters. We did just that! The last zipline route was the best because it ended with a swim inside a cenote.
More water! But this time we were snorkeling in the depths of the Nohoch Cenote, which is part of an impressive aquatic system know as Sacactún: the world´s longest underground rivers, recommended and explored by NatGeo – a unique experience!
After so much activity, hunger set in. Fortunately, the last part of this excursion ended with a delicious Maya meal with options for vegetarians too.
At the end of this adventure, I realized I could do it again and again!
Booking: altournative.com / +52 (984) 803-9999/ customerservice@alltournative.com