Discover Mexico
Tree-Top Adventure: Xotic-Há Ecopark
Take yourself to new heights with a unique jungle adventure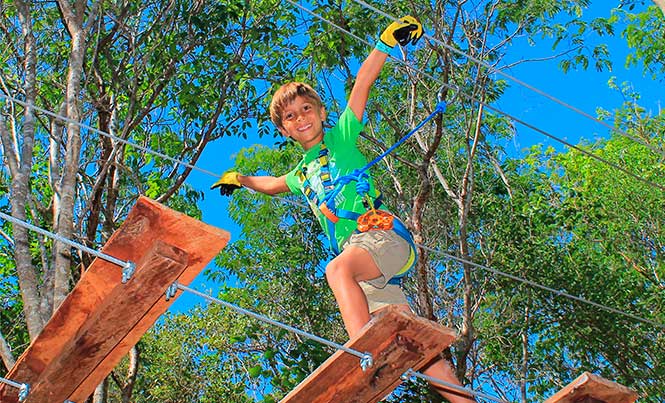 Looking for an adventure that offers something for the whole family and doesn't involve waiting in long lines to get into overpriced attractions? Then you should head to Xotik-Há, about 20 minutes south of Playa del Carmen. Xotik-Ha is a new eco-park that offers visitors the opportunity to challenge themselves while climbing to new heights!
The park is set back from the highway, almost directly across from Xpu-Ha and a short drive down a dirt road brings you to the entrance. It´s small but beautifully preserved.
Birds abound in this jungle paradise, and it seems everywhere you look there are beautiful motmots perched in the trees.
Xotic-Há offers visitors the opportunity to challenge themselves with a variety of activities. They offer:
   Xtrees: ropes course adventure park

   Cenote snorkeling and swimming

   Cave diving (for certified cave divers only!!)
Their ropes courses are the main attraction for most visitors to the park. They have a mini course, kids' course, and an adult course. The mini course is designed for little ones that are two years or older. The kids' course is perfect for everyone aged five and older and at least 3 ft. 7 in. or 1.10 m tall. The kids' course progresses in difficulty to build their confidence while having fun.
The adult course is a bit more challenging and a great way to conquer some fears! This course is available for anyone who is at least 4 ft. 7 in. or 1.40 m tall. Here, you start with a medium level and progress to a very challenging level. They have a number of different obstacles that you need to conquer, including swaying bridges and crossing from obstacle to obstacle – all at tree-top height!
The guides will properly fit you and your little ones with a safety harness, and everyone is always attached to a lifeline while on the course. Because they are a small, family-friendly eco-park, their staff is very attentive, and you'll be in good hands during your adventure.
Cenote Minotauro is also on the property, and you can cool down and relax after your ropes adventure. They also have a small café where you can purchase drinks and snacks.
For more information on pricing, hours, and activities, visit www.xotikha.com or Facebook/Xotik-Ha.