Discover Mexico
What to Expect from an Ecotour
Community Tours Sian Ka´an offer tourists a responsible way to experience the beauty of the area and help local communities at the same time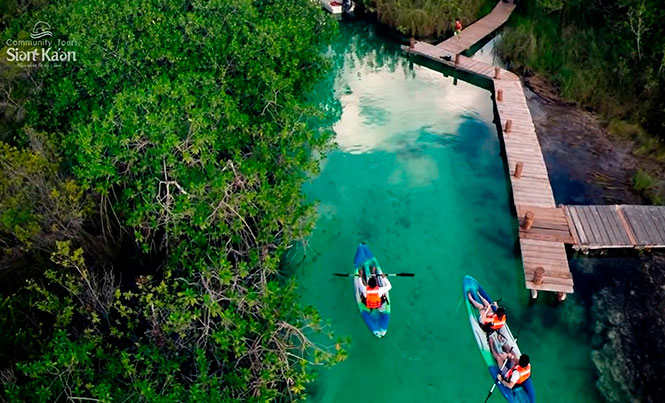 Have you ever wondered what ecotourism is? It is governed by some basic rules that have as their main objective the sustainability, conservation and preservation of ecosystems, through communities committed to the well-being of their population.
Community Tours Sian Ka'an is a company founded by Mayas from the towns of Muyil and Chumpon, localities in the Sian Ka'an Biosphere Reserve. They have been touring the Sian Ka'an Biosphere Reserve since 2002. In 2005, they were added to Condé Nast Traveler magazine's Green List, which honors worldwide those ecotours that benefit the local economy, the environment and the consumer.
For this company, born out of the initiative of cooperatives, sustainable development pursues economic growth, while conserving environmental quality and social equity. Its ecotourism serves to educate and inspire visitors and organizations about the importance and benefits of sustainability practices. It improves the quality of life in Muyil and Chumpon through the creation of employment, future projects, the sale of products made by the communities and educational programs focused on the care of nature. All these efforts raise awareness among tourists and locals about the importance of preserving the environment.
An example of the tours they offer:
Ancient waterways in Sian Ka'an

Muyil Jungle: an archaeological zone

El chicle: a Maya legacy

Temaz Kaan

Birdwatching

Kayaking

Paddle boarding
All of these tours are based on three principles:
Guaranteed personalized experiences in small groups that minimize the ecological impact

Ecotourism that provides adventure and education about the challenges facing conservation within the reserve

 A true cultural exchange
The experience an ecotour provides is invaluable and enriching. In addition to having fun, you know that you are doing something important for the preservation and care of the ecosystem, the environment and, of course, the community.
For more information contact Sian Ka'an Community Tours:
Osiris Street between Sol Oriente and Andrómeda Oriente in Tulum Quintana Roo, CP 77780, located 100 meters from the town hall.
Tel. 984 871 22 02
Cell 984 114 07 50
www.siankantours.org
info@siankaantours.org  
rcaamal@siankaantours.org
angeldavid_vivi@yahoo.com.mx