Micaela: Connecting Women Ecologically
Itzel Lopez creates lingerie with a message from recycled textiles and natural materials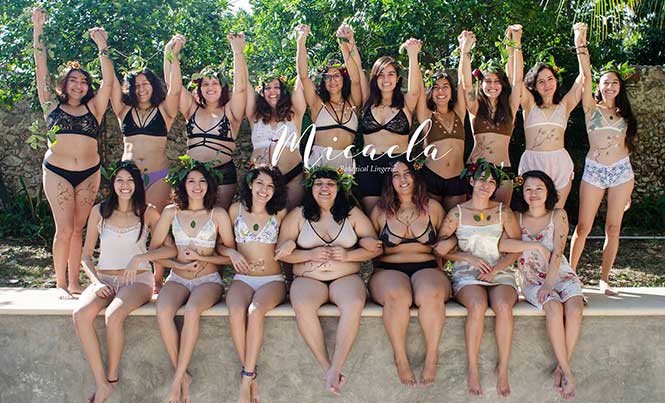 What do you do when you have a passion for several things? You combine them in a responsible business and show others their power to make the world a better place. This is what Itzel Lopez has done with her ecologically friendly lingerie line, Micaela. She combines being responsible by recycling natural materials with designing a lingerie line where women can express themselves and feel beautiful. This allows women to care for their planet while caring for themselves too.  
Playa Times: Where are you originally from and how did you find yourself in Cancun?
Itzel: I'm from a little town called San Juan del Rio, Querétaro where I lived my first twelve years. Then I moved with my family to Playa del Carmen where I lived for almost 14 years and two years in Cancun, so now I can say that I'm from two places, but my heart is always going to be with my beautiful town, San Juan.
You created a unique business here; can you tell us what it is called and more about it?
Micaela is the result of everything I have learned throughout my life. It's my arm, my leg and a part of me. It goes beyond being just a textile, it's my essence and the metamorphosis of my first project "Reciclado Vintage". It was not something I planned, it was something that was given as I progressed in my search for my personal identity and my empowerment as a woman. I will never stop being in constant change.
We work together with nature, benefiting from the resources it provides us, generating an ecological consciousness in our customers and giving back to our planet a little of how much we destroy.
We make pieces with hand embroidery and eco-prints with flowers, plants and food waste.
Every detail of our pieces is important because with it we make the customer see that Micaela goes beyond just being a textile; it is very important that our customers live the experience from the smallest detail to the final delivery packaging.
How were you inspired to create this natural product?
I was interested in investigating how, by whom, and where the garments we used were manufactured. What I discovered left me frozen because the textile industry is the second greatest contaminator of our ecosystem. Human beings are destroying the only place we call home. Labor exploitation by large brands of "fast fashion" is really sad and disturbing. The people working in workshops are suffering in places like China, Indonesia and Bangladesh, where most of the textiles we wear come from.
It is worrisome how it has been instilled in human beings that material possessions equal happiness. That has led me to transform myself and have a mission with Micaela beyond being a textile, to sow seeds in the public, to generate ecological awareness, to promote the culture of consumer conscience. I've been studying for four years to create pieces that have a message.
How long have you been working on this venture? 
For seven years but I've been creating for 15 years.
What has been the key to your success?
There is no key. Only be true to yourself and always be thankful and kind because success is different for everyone.
What advice would you give to anyone who wants to start a business here?
Be true to yourself
Constancy and determination
Do not let anyone tell you that you cannot do it
Remember that even the most negative experience will always have a positive teaching
Empower yourself
What makes your line of lingerie so different from others?
We create unique pieces, customized pieces based on the needs of each woman.
Who are your main customers? 
Micaela allows me to have all kinds of clients, women aged from 15 to 60. Women who are attracted by the message of empowerment and love for nature.
What has been the most fun starting this venture?
Everything, because every step has been different, Micaela has given me the opportunity to express myself, to be able to merge altruism with my passion and most importantly to be able to learn, grow, and help the environment and other women.
Follow Itzel and Micaela on Facebook/@mxmicaela