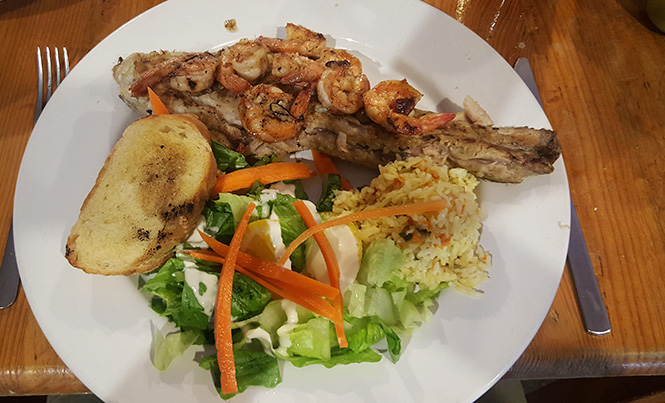 It's time for me to talk about food again. Since I am living in the Riviera Nayarit, the topic of course will be about seafood. In particular, a  place called El Coleguita, which is located in Las Juntas. They are now also found in the hippest part of Puerto Vallarta, La Marina.
For those of you who have never been to the marina, it's a beautiful place with quality restaurants, condos and hotels. The prices are inflated and it attracts people with  deeper pockets than most. El Coleguita, however, seems to be the exception.
Their focus, like most Mexican restaurants, is on lunch and not dinner. The prices are very good, considering the neighborhood they are in. You will find that the tables are filled mostly with Mexicans. Just to be clear, do not expect fine dining or a romantic getaway. But what you will get is this: a bottle of tequila at your table from which taking a few (free!) shots is encouraged, a fish soup appetizer and plates that are big enough to share with your partner. The half-open kitchen buzzes with activity while bilingual and very attentive waiters will jokingly call you 'coleguita,' to emphasize the familiar feel about the place. Naturally this combination produces a fair amount of noise. This is usually amplified by artists playing a combination of guitar, pan pipes and singing. And for those of you interested, yes, they do take requests.
With your tequila, a large plate of fish and shrimp, a beer on the side, accompanied by music, shouting conversation with your companions and a mesmerizing view of the marina in  this touristic area, is it possible to feel any more Mexican?