Real Estate & Legal Topics
Changing the Real Estate Market in Tulum
Los Amigos Tulum offers world-class architecture, innovative design, enduring quality, state of the art technology, and a unique and award-winning rental program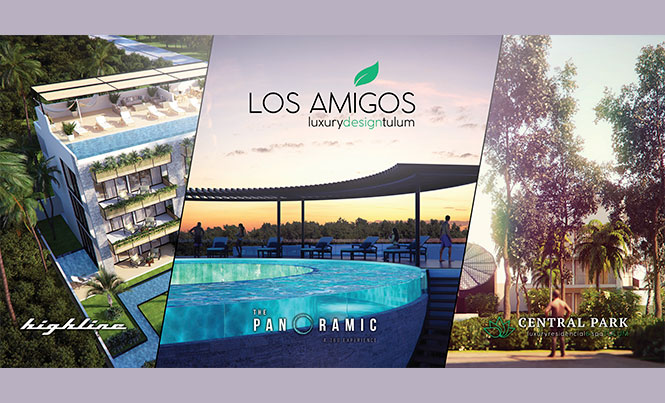 Founded in 2012 by two friends who met as international travelers in Guatemala, Los Amigos Tulum has become the most influential developer in the region. They offer world-class architecture, innovative design, enduring quality, state-of-the-art technology, and a unique and award-winning rental program.
The Smartflower solar system, a biotech water treatment system, the first zero emission electric car in Quintana Roo, and a Tesla charging station are just a few of the pioneering renewable technologies that Los Amigos have implemented. They continue to raise the standards in sustainable building and design to a new level in Tulum.
Their portfolio showcases developments from a sleek designer villa with a smart solar system to the latest iconic projects such as Central Park Tulum, The Highline, Panoramic 360, and Sanctuary Tulum. These have become the most successful residential developments in the history of Tulum. Los Amigos' commitment to architecture, design excellence and their determination to exceed expectations of investors and clients are what drive this passionate team of professionals.
With more than $30,000,000 USD in projects under development in 2017, the company guarantees investors the highest returns in the market. They also offer the most successful operating rental program with five-star hotel service to provide all the services for you.
There is no better time to invest in Tulum, and when investing in sustainable development, you can rest assured that your investment will be protected for years to come. For more information on residential projects by Los Amigos Tulum, please visit www.losamigostulum.com