Love Is in the Air
An interview with The Lovers duo, Thompson Robles and Alejandra de Garay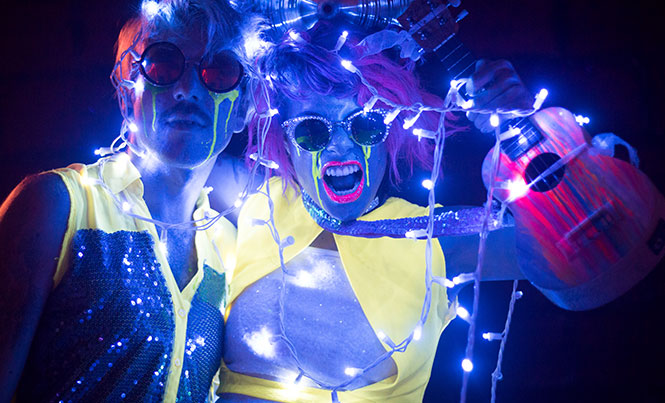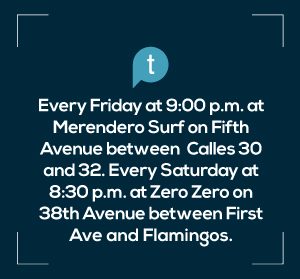 Fresh, colorful, funky, jovial, and unique describes The Lovers, a duo performing fresh versions of grooves and great hits of funk, soul, blues and rock. This unique band also brings a perfect vibe to the beach, as their love comes through their music and seemingly makes everyone around them smile.
The couple who fell in love in Playa del Carmen bring their romance to the forefront with their musical collaboration in The Lovers – Thompson Robles on vocals and guitar and Alejandra de Garay on vocals and drums.
Teena: What is it like to be working with the person you are in a relationship with? Is it always love and romance? Do you always agree on everything?
Alejandra: It's wonderful, music brings us closer as a couple. We understand each other and love each other more. Of course, like all relationships we have disagreements. Actually sometimes we even have disagreements backstage, but then, right after we are smiling and forgetting. We have never been apart from one another more than one day or in a fight for more than two minutes. It's a very healthy and creative relationship. We enjoy working and playing together, we have a great chemistry. It's a unique love, I never get bored of sharing life and music with him. 
What is one thing you can tell us about Alejandra that makes you crazy in love with her?
Thompson: How much fun she is, her charisma, transparency, her talent and how spontaneous she is living life with joy and love. The fact that she is unique.
Was it love at first sight?
Alejandra: The first time we met we had a couple of drinks together and I left without saying goodbye. Tom didn't know if it had been a dream or reality.
What attracted you to Thompson?
Alejandra: I was attracted by his charisma. I remember I had asked the universe for someone like him, and one month later, we found each other and it all began.
It is very unique to see a woman singing and playing drums at the same time. Why didr you choose to be a drummer?
Alejandra: Yes, it's hard to find a female drummer, and even more a female drummer that sings. The drums are a tough instrument, and sometimes painful when you have many shows in a row. It's tiring to do both things at the same time, but I suffer for the love of the music. I started playing the drums because I wanted to start a female band, and I couldn't find a female  drummer. Years ago I had an original music project in Mérida in which we were all women, that's when my career as a drummer started.
I have seen your music video of your Mustang Sally cover, very creative!, as well as your photos, and other media that includes posters. You have a unique image and it is portrayed very well in everything you do. Not many musicians take care of this aspect of their business. Do you do create your own promotions? Where is the inspiration coming from? How are the ideas formed?
Thompson: We do everything we can to give people the best of us. Ale is in charge of making the flyers, and video editing. I help by shooting video, and the creative instrumental aspect. Ale also makes the outfits for our shows and promotions. It is a great collaboration between the two of us.
Tell us about the music you play?
Thompson: Some of our favorite songs include:  You Really Got Me, Man's World, House of the Rising Sun and Personal Jesus. But we enjoy all of our repertoire. We make a selection, and then transform it into our own style. But we are also playing several of our original songs in our live shows. We hope to enter the studio at the end of this year. W e are also making live session home videos. Live videos! As for sound, we don't have a defined sound, because of our diverse musical tastes. We are inspired by many artists, James Brown, Michael Jackson, Little Richard, Queen, Nirvana, Pink Floyd, Amy Winehouse, and The Beatles, to name just a few.
Check The Lovers out
Every Friday at 9:00 p.m. at Merendero Surf on Fifth Avenue between Calles 30 and 32.
Every Saturday at 8:30 p.m. at Zero Zero on 38th Avenue between First Ave and Flamingos.
Follow them on Facebook and YouTube @theloversduo, Instagram @theloversduoo, and on Soundcloud Alejandra de garay/theloversduo.
Teena Clipston has spent more than fifteen years immersed in the Canadian music scene, making headlines in Concert Promotion, Event Production, and Artist Management. She now makes her home in Playa del Carmen, and is the owner and operator of PDCMUSIC.