Entertainment
Mike's Movies – The Latest Releases in Playa del Carmen
Jumanji: Welcome to the Jungle is the follow-up to Robin Williams original in which four characters become avatars in a game that they must win in order to escape to reality.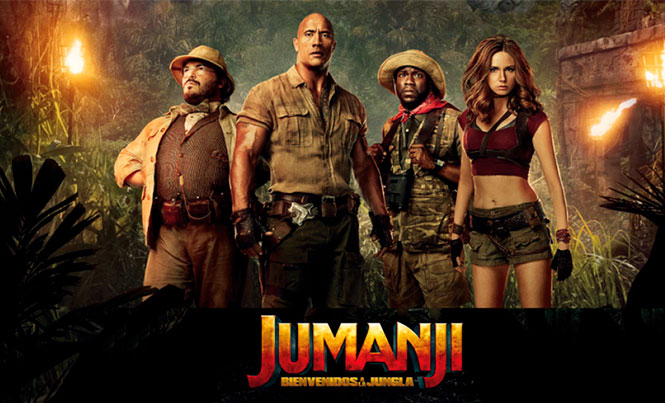 Jumanji: Welcome to the Jungle (or En La Selva as it is known here) is a follow up to the 1995 Robin Williams version, but with a difference: instead of the game coming to life in the real world, our characters are sucked into it and become the avatars that they had selected.
Once in the game, Spencer becomes Dr Smolder Bravestone (Dwayne Johnson), Fridge transforms into Moose Finbar (Kevin Hart), Martha is now Ruby Roundhouse (Karen Gillan) and Bethany changes into Professor Shelly Oberon (Jack Black). Each character has strengths and weaknesses which our protagonists have to adapt to as they go further and further into the game. All four of the main actors play their roles very well, portraying the teenagers we see playing Jumanji as the above characters.
The plot of the film is that our four heroes have three lives each inside the game and must work together to finish the quest. That way they can be released before any or all of them lose all their lives, unable to return to their friends and families in the outside world.
It is interesting to watch them try to live up to the avatars they have become, especially Jack Black playing a self-absorbed teenage girl who is now an expert cartographer. The film has enough appeal for fans of the original and should draw in a completely new audience. Director Jake Kasdan, in probably his best film to date, does a fine job of delivering a movie that is part action, part adventure and part comedy. The star of the show is Dwayne "The Rock" Johnson who plays this sort of fun role very well, which he had many years of training for as a wrestler in the WWE.
I would be happy to watch this again in a couple of years – always the mark of a good film. This was a decent start to 2018 and if all the films I see this year are of this standard, I will be very happy. It is well worth two hours of your time. 8 out of 10.