Foodies
Coffee, Chocolate and Community – Ah Cacao of Playa del Carmen
Everything you ever wanted to know about one of Playa's most famous purveyors of coffee and chocolate beverages.
In this edition I share with you a little of the history of an emblematic place in Playa del Carmen. It is very well known to locals that live here, one of those places that you can always recommend when you want to go out for a coffee: Ah Cacao. Personally I am a fan of their chai and their carrot cake. Yummm!
When was Ah Cacao founded?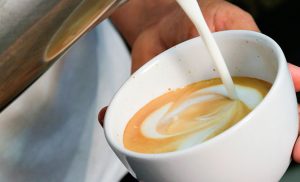 Ah Cacao began in 2003 when a young Mexican-Irish couple came up with the crazy idea of offering chocolate not just as a sweet treat but as a complete experience, like fine wine. The consumer would be exposed to the origins of product (cacao beans grown in tropical climates), the different varieties of cacao. They would learn that consuming cacao has many health benefits, and that it has a cultural history dating from pre-Hispanic times in Mexico when it was revered as sacred and mystical (as well as used as a unit of currency).
The first Ah Cacao store was opened in the middle of 2004 on the corner of Constituyentes and Fifth Avenue, and is still going strong today (with about three times the original floor area).
What is the vision behind Ah Cacao?
Ah Cacao's mission is to promote natural well-being with products from Mexican farms, while supporting wildlife conservation.
Tell us about the issue of environmental responsibility and what you have done in regard.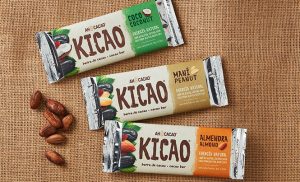 Although Ah Cacao is a small company, it tries to make a positive impact on the environment. To this end the company:
Produces its products with solar energy. The Ah Cacao factory in Playa del Carmen is covered with 99 solar panels, making it one of the largest solar installations in the state of Quintana Roo.

Financially supports a number of conservation organizations, including Conservation International's "Rescate del Cacao" program for cacao farmers in Mexico.

Constantly searches for ways to reduce its overall impact, e.g. through LED lighting, composting, reducing packaging, reusing, recycling, energy efficient equipment, etc.

Gives a small discount to customers to bring their own take-out cup when they visit Ah Cacao.

Encourages the use of bicycles, providing bicycle stands at all its stores.
As well as serving coffee you also have shop; what products can we find there and where do they come from?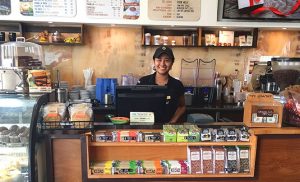 Ah Cacao produces a wide range of chocolate and coffee products. Of particular note are:
Kicao energy bars which are made with pure cacao with no added sweeteners, giving the chocolate lover all the health benefits of cacao with absolutely no guilt! Kicao bars are so popular they're sold in 115 Natural Grocers stores in the United States.

Dark chocolate bars made with hand-selected fine-flavor cacao beans from Chiapas and Tabasco.

Chocolate body care products like shampoo and soap.

The Ah Cacao gluten-free chocolate brownie, over 50,000 of which were devoured last year!

Bagged coffee direct from the plantations in the mountains of Chiapas, Mexico.
We know that there are more cafes Playa and even some of internationally renowned brands. What makes you different from the others?
Ah Cacao aims to offer you natural options which allow you to experience the true delicious taste of the ingredients. Almost everything is made here in Playa del Carmen from natural ingredients, so not only are you doing your tastebuds a favor, you're also supporting the local economy when you enjoy Ah Cacao.
For Saint Valentine's day Ah Cacao has chocolate heart lollies in milk or dark chocolate as well as chocolate body care sets for the special people in your life.
Web (with online store): http://ahcacao.com
Facebook: https://www.facebook.com/AhCacao/