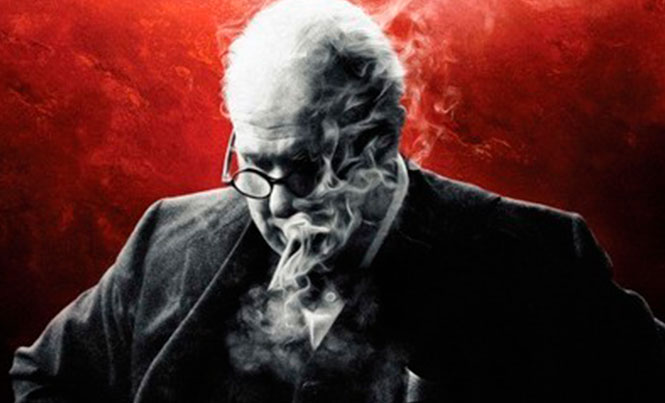 Last year's release of Churchill saw Brian Cox put in an excellent performance as the wartime British Prime Minister. The film was a let down due to its depiction of Churchill as  a marginalized and demoralized figure, which many historians would dispute.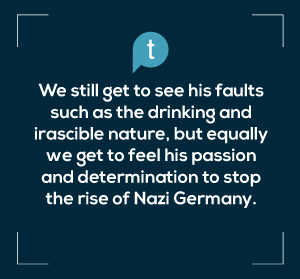 In Joe Wright's Darkest Hour (La Hora Mas Oscura) we get to see a much more accurate portrayal of Churchill. We see his faults, such as the drinking and his irascible nature, but equally we get to feel his passion and determination to stop the threat of Nazi Germany.
The film is set over the first few dramatic weeks of Churchill's first term as British Prime Minister and he is played by a never better Gary Oldman who deservedly has received an Oscar nomination for best leading actor, and I for one would not be surprised if he walks away with the statute for the first time. Oldman is superb at portraying Churchill as the great orator that he was.
During this time period the Prime Minister had to deal with doubts from Parliament and the King, and the near certain annihilation of the entire professional British Army. Joe Wright directs and treats us to his trademark long tracking shots in a gripping film that gets stronger the longer you watch it.
One particularly moving and memorable scene in the underground sums up the island nation mentality, which can be a hindrance in peacetime but is priceless at times of conflict.
If it were not for the combination of Winston Leonard Spencer-Churchill and King George VI, Britain and Europe may have fallen to Hitler's armed forces.
My star of the show this week is Churchill himself, to whom the whole of the free world owes an enormous debt of gratitude. "We shall defend our island whatever the cost may be, we shall fight on the beaches, we shall fight on the landing grounds, we shall fight in the fields and in the streets, we shall fight in the hills; we shall never surrender."
As a film 7.5 out of 10. As a leader 10 out of 10.