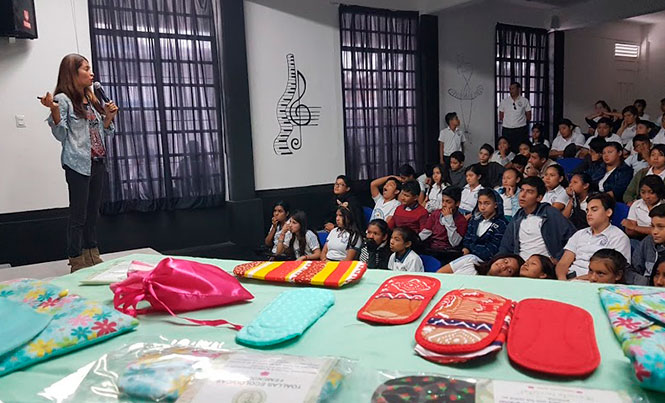 As spring emerges, we think of fertility. A woman becomes fertile around the age of 13 and it ends around the age of 53. This is 40 years of using disposable products that have hidden dangers to the woman and to the planet. Victoria Chaires has created a program to educate young women through the school system about the truth surrounding disposable feminine products. Though her company, Diosas Luz, she creates an extensive line of ecological feminine products, and holds workshops on how to create them yourself. I had the honor of witnessing her program in a local middle school during Women's Day week. I learned so much and asked her about her inspiration to begin this project.
Playa Times: Where are you from? How long have you been here?
Victoria: I am originally from Celaya, Guanajuato. I came to the beach seven years ago because I love the paradise that lives here.
How was your project Diosas Luz born?
Goddesses Light Feminine Ecology, Recycle Your Cycle! emerged through my personal experience as a woman, with respect to disposable feminine products, their use, poor quality, chemicals not being disclosed on the packaging and contamination to our body and the planet. Because of the big marketing myth, I made the decision to create and make eco-friendly cloth feminine products with the clear message that this concept is not new, as many women in ancient times used cloth towels.
What has been the drive to perfect this line and what is your goal with it?
My inspiration comes from the need to create awareness in the new generations of women. My goal is that with every woman that is made conscious about ecological alternatives, we reduce the amount of sanitary garbage which is creating an enormous impact and ecological imbalance on our planet, Mother Earth. We need to remember that she is our sustenance, food, and home.
"I also like to involve men and seeing their response to this issue has motivated me so much since their response has been a very positive one."

Victoria Chaires
What has been your biggest accomplishment with your project so far?
My greatest achievement at this time is that not only do women receive this information as theirs, but I also like to involve men and seeing their response to this issue has motivated me so much since their response has been a very positive one.
Who would you say is your audience for this passion?
Diosas Luz is for all women who want to change their lives and not just their menstrual cycles, because I have met many older women who no longer live a fertile life but suffer from urinary incontinence. This is a healthy alternative for them too.
Spring is almost here! How do you feel your project correlates to nature and the seasons?
I relate it to life! We are life-giving. Our menstrual blood contains stem cells that contribute to the fertility of the earth.
What are your hopes for the future for women here in the Riviera Maya?
My hopes are to raise awareness of our actions, take responsibility for our cycles, stop creating sanitary waste and share this information with more women.
I think this is an issue that needs to be shared at an early age so adolescents receive this information. Sharing this information freely in a very positive way in conferences makes communication more comfortable and less embarrassing. There is a need to spread this message further so that it reaches more women, including the outlying communities, such as the villages.
How can our readers support your goals in your project?
By sharing this information and supporting it. Also, by investing in my line, you are investing in yourself and helping me to give donations of eco-friendly products to those in need.
Follow Victoria on Facebook/EcologiaFeminina and Facebook/Diosa Organics and on Instagram @diosaorganics to learn more about this very important subject.