Riviera Maya Primates in Danger of Extinction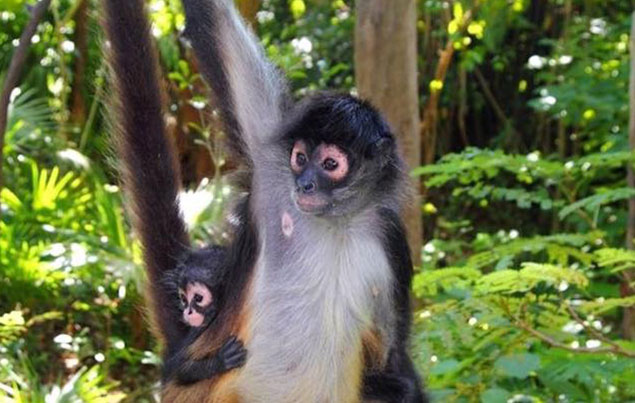 Since the habitat of spider and howler monkeys is disappearing, the Tintal-Merida federal highway has installed safe passageways that allow wildlife to cross the highway safely
Man's closest relative, the ape, is in grave danger. According to a study by the International Nature Conservation Alliance, the Bristol Zoological Society, the International Primate Society and the International Conservation Organization, at least 50 percent of the primates are at risk of extinction, a situation that the spider monkey and howler monkey of the Riviera Maya have not escaped.
The spider monkey is thin with long legs, and the howler monkey is more muscular, similar to a small gorilla. They are losing their habitat due to hotel development, hunting, illegal commercialization, and cutting down fruit trees.
Jorge Fuentes, Director of La Vereda de Xcalacoco nature preserve, emphasized the urgency of providing green areas in the new developments being built on the coastline, as they are threatening wildlife. Families of apes have been taken to the preserve as they are at risk and cannot find food. They are also in danger of being captured and used by people who might commercialize them for profit, affirmed Fuentes.
"I'm happy to see the apes here. We are continually planting trees to sustain them. The problem is that the area keeps having trees cut down, so the habitat of the apes is reduced each day," he lamented.
Zapote, guaya, and mangrove seeds, which are now scarce and disappearing day by day, are some of the species that the apes tend to eat. He also indicated that it does not help just to replant with palm trees, the species must be native to Mexico.
Authorities must step in and intervene immediately, as the spider monkey population is threatened; "We have to do something and see that the authorities continue to pressure the developers."