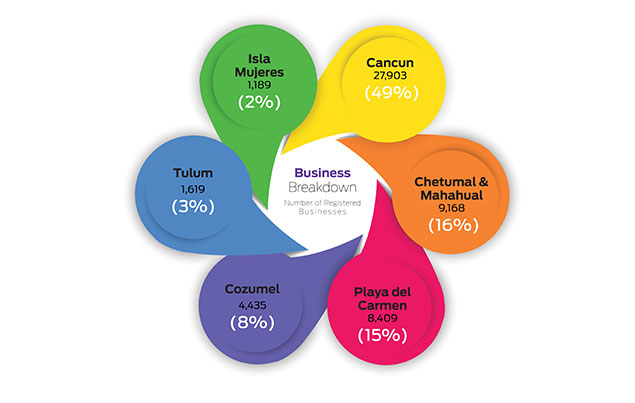 Micro, small and medium sized companies make up the majority of businesses in the state, accounting for more than 80 percent of the registered businesses
In the state, 93.3 percent of companies are dedicated to the tertiary sector. Tertiary activities are services and trade that includes tourism, the main economic activity in the Mexican Caribbean.
Similarly, Quintana Roo abounds with micro enterprises, making up 90.8 percent of total private companies. Additionally, 7.1 percent of businesses are classified as small-scale, medium-sized companies represent 1.6 percent and large companies only 0.5 percent.
According to the National Institute of Statistics and Geography, INEGI, in Quintana Roo there are an estimated 57,186 companies.
Only 13,000 out of the 57,000 are registered at the Mexican Social Security Institute, IMSS, estimated Enoel Isaias Perez Cortes, the federal delegate of the Ministry of Labour and Social Welfare.
This means less than 25 percent of companies comply with the obligation to provide social insurance to their workers. From that 25 percent, half are registered with the National Fund for Employee Consumption, Infonacot, a government-related entity that is intended to generate better credit conditions for the working class. Two years ago the difference was even greater, with only 50 active firms generating loans to its employees.
As a result of inspections by the federal agency, this particular issue was raised to deter the further backlog of unregistered companies. In the state, there are 714,000 people with employment registered at the IMSS, half of them already receive subsidies from the state.
Only one company has been sanctioned for refusing to provide credit to the Infonacot. The fine ranges from 250 to 5000 times the minimum wage.
In terms of the number of companies, the municipality of Benito Juarez (Cancun) leads the ten municipalities of the state with 27,903 businesses. Othon P. Blanco (Chetumal and Mahahual) followed with 9,168, and Solidaridad (Playa del Carmen) with 8, 409. Cozumel has 4,435, Felipe Carrillo Puerto has 2,153, Tulum has 1,619, Isla Mujeres has 1,189, José María Morelos with 1,015, Bacalar has 878 and finally Lazaro Cardenas only has 517.
ium enterprises are necessary for the growth of the economy, make up more than 80 percent of the legally registered establishments and contribute to the generation of jobs and income.