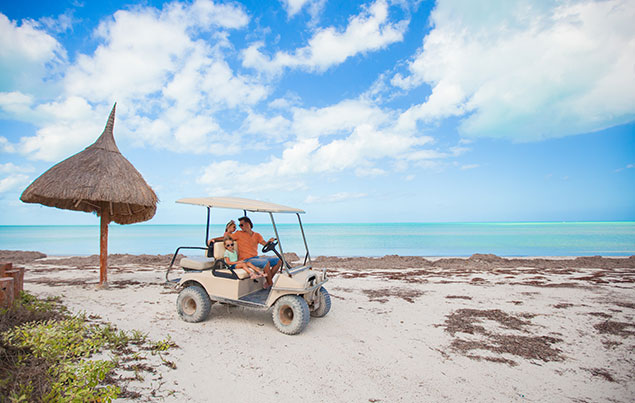 If an escape is what you are looking for, we found it! Paradise abounds in these two beautiful locations located in the northern part of the Yucatan Peninsula
Not far from Cancun, but a world away, is the island of Holbox. Separated from the mainland by a shallow lagoon, Holbox offers a rich birdlife including pelicans and flamingos. Pronounced "holebosh", Holbox is part of the Yum-Balam Biosphere Reserve, and popular for year-round fishing and whale shark viewing from May to September.
Accessible from the mainland via ferry, its main forms of transportation are golf carts, bicycles, mopeds and walking. Holbox has one of the safest beaches for kiteboarding. Conditions are ideal for beginners, with shallow waters, no big obstacles on the extremely wide beach, and an on-site school with professional instructors. Winter winds are perfect for the more advanced adventurers.
How to get there: Take the 305 toll road from Playa del Carmen, towards Merida. Follow the signs to Chiquila, where you can safely park your car and take the ferry.  Approx. 1 ½ Hrs. drive.
Where to stay: With over 50 hotels, the choice is yours, including Hotel La Palapa and Posada Mawimbi's prime sand between the toes locations.
Tip: Bring bug spray. Certain times of the year the mosquitos seem more active than others!
Located in the state of Yucatan,  this mostly fishing town has a 19th-century lighthouse and an abandoned historic Hacienda. Besides fishing, Celestun also produces salt, as it has done from pre-Columbian times and the tourism industry is increasing the town's economy, as the community has many kilometers of sandy beaches and abundance of wildlife. It is surrounded by a national park (Celestun Biosphere Reserve), home to a myriad of bird species, partially due to its unique ecosystem that features a combination of fresh water from the estuary and salt water from the Gulf of Mexico.
Celestun is also known as a hatching ground for endangered sea turtles, with wildlife conservationists working on projects to protect them from encroaching modernization. One of the busiest times for tourism is April's Semana Santa when local Maya villagers from around the region visit the area.
How to get there: 383 KM from Playa del Carmen. Approx. 4 ½ Hrs. Take the toll road to Merida, then Route 281 to Celestun.
Where to stay: Hacienda Santa Rosa, part of Luxury Hotels, located 26 miles from Celestun or stay at Xixim Mayan Hotel surrounded by the Celestun Biosphere Reserve.
Tip: Take a guided boat ride to get up close to the thousands of flamingos.