Foodies
Capirotada (Bread Pudding) with Rompope Sauce Serves 9-10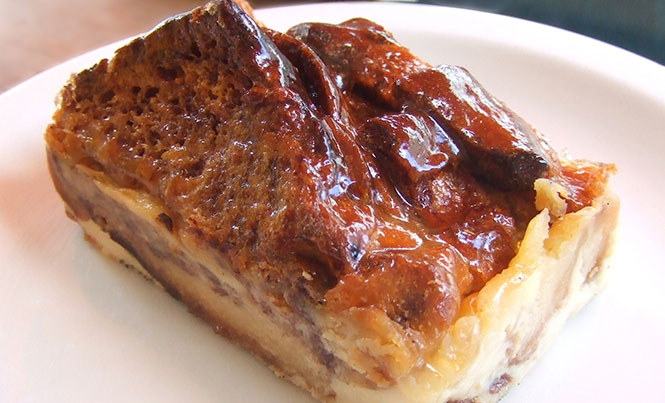 For the bread pudding
12 eggs
4 cups milk
2 cups media crema
½  cup granulated sugar
1 cup raisins
4 cups of day old bread cut into 1/2 inch cubes                                                                                    
1 apple diced into small cubes
For the sauce
¾ cup granulated sugar
1 stick butter (unsalted)
2 tsp pure Mexican vanilla
½ cup rompope
Preheat oven to 325 degrees
In a food processor, on medium speed, whip the eggs, milk, cream, sugar, till well incorporated (if you don't have a food processor, simply whip by hand). Add the raisins and apples to the cream mixture and blend together with a wooden spoon.                                                                                                                                                                                                                                                                                                                                                                      
Place the cubed bread in an oven proof pan 9 X 13, pour the mixture over the bread.
Let it soak for 30 minutes – make sure that all the bread has absorbed the cream.
Place pan in oven for 45 minutes.
Meanwhile make the sauce. Over medium heat in a saucepan mix sugar, butter and vanilla, stirring constantly till all sugar has melted, then add the rompope and stir well. Serve this warmed over the bread pudding.
This year-round favorite dessert can be made in advance and reheated
Variety – For fun flavors add one of the following combinations:
Dark chocolate and green creme de menthe, berries and white chocolate, caramel and sea salt, or fresh pear slices and liqueur. There is no limit to the possibilities like a pinch of cinnamon (canela), nutmeg or allspice or even some caramelized walnuts. Try dried cranberries instead of the raisins.
Hint – You can substitute the granulated sugar with 1 ½ Tbsp of agave nectar/syrup for a low glycemic index.
Savory  – Add mushrooms, cheese and/or sausage for a savory side dish