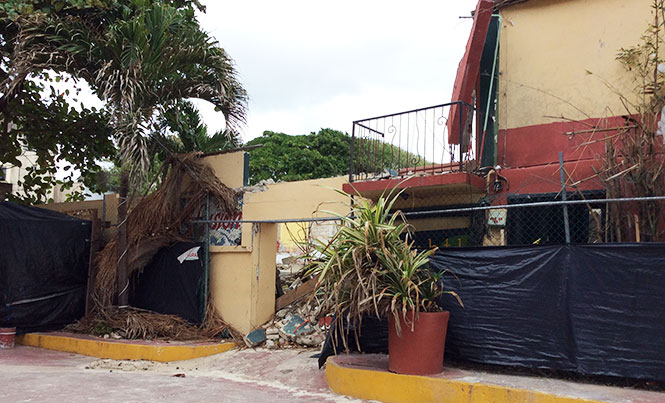 The legal battle for rightful ownership continues for the popular 6th Street beach bar and former hotel
If you walk down Calle 6 to the beach, you may have noticed the hotel portion of Fusion has been destroyed and the construction site has been shut down. This is due to a long standing legal battle between the owner of Fusion and his former business partner.
Urban Eduardo Ocejo, the general director of Environmental Management Morentin confirmed that at this time, no project can be built on the property because the demolition was carried out without permits and the ownership is still in dispute. The demolition work was halted due to the pending legal proceedings and the interested parties must wait until the court rules on the case.
The restaurant and bar area is still operating because it is on the area of the beach controlled by ZOFEMAT and allowed to continue operations.
Fusion was as a popular destination for a long time in Playa del Carmen. A preferred location for locals and tourists it was a great place for listening to good music, having a few drinks with friends, and enjoying the fire dancers by the sea.
In late 2008, the gentleman claiming original ownership of Fusion, American Eliecer Appel moved to Israel for health reasons. At that point he delegated the administration to Israeli Arnon Rotem.
Presumably due to his long stay outside the country, he was asked to sign over legal power. When he suspected that he was being cheated out of his business, he returned to Quintana Roo in 2013, but he was not permitted to enter the premises.
In 2013, the administration and the owner began a legal battle after a new agreement had been entered into, with authorization from a notary public in Cancún. Eliecer Appel sued for false claims, unlawful association, and fraudulent administration.
The conflict seemed closer to a resolution at the end of May 2015, when the local civil judge ruled in favor of Appel. Federal authorities supported by the tourist police proceeded to remove Rotém's personnel and the vacationers lodging there. However, it appears that the battle for rightful ownership of Fusion will continue well into 2016.