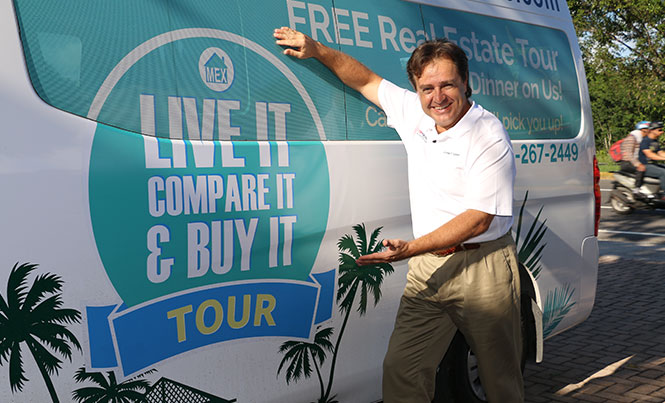 From Indiana via Mexico City, Thomas Lloyd's search for the garden of Eden, came to fruition in Quintana Roo. He became the first person in 2011 to attain Mexico's new nationally regulated Real Estate Degree and receive a professional identification number. His focus has been to provide those wishing to purchase and invest in real estate in Mexico, to have an enjoyable and safe experience
The Playa Times: When did Top Mexico Real Estate germinate?
Thomas Lloyd: I first daydreamed about Mexico while studying at Purdue University, and with the passing of the NAFTA agreement, I planned, even back then, to seek business opportunities south of the border. I started with a job in auto manufacturing, in Mexico, eventually opening my own facility. It was then that I realized the great importance of working with experienced counterparts in Mexico, as the laws and the systems vary too much from what you may have learned or practiced in your own country.  
How did that philosophy relate to your current business?
If you are looking for properties or for a realtor's help, you shouldn't choose to work with a realtor based on how beautiful their website might look or because their face and telephone is listed next to the property listed for sale. Choose one based on their experience, testimonials, an established team, a registered office, and certifications/licenses.
Why did you choose to settle in Playa del Carmen?
After selling our manufacturing business in 2005, my wife and I moved to Cancun, because of the beautiful water and weather, but then the cosmopolitan ambiance of Playa lured us further south. We immediately noticed the high demand of Americans and Canadians needing professional services in helping them to purchase real estate in this booming area, and I studied the real estate law and processes for non-Mexicans in this industry, plus the North Americans that I started helping, were also searching to live in this region. Over the past two years Tulum has been picking up interest from my clients, so we just opened up new offices in Tulum.
Is there something that distinguishes your business from others?
It is our focus and commitment on helping non-Mexican buyers make prudent decisions in this booming real estate market. It can be a very lopsided and uneven game for them not only when trying to buy real estate but also setting up a business in Mexico, and so we level the field, by knowing the pitfalls that exist. Our team receives constant training regarding real estate contracts, updates on the laws affecting foreigners, and the legal and financial tools available for buyers.
Find out more about Thomas Lloyd at www.topmexicorealestate.com