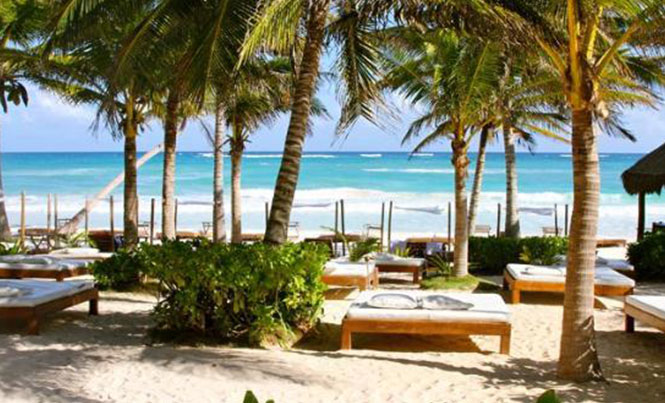 Tulum for years has been the star of the Riviera Maya.  The turquoise waters call to you to dip your feet and the Caribbean breezes whisper ancient secrets.  We wanted to highlight some of the beach clubs you won't want to miss
El Paraiso Beach Club

is located 500 meters south of the Tulum Ruins. It's a beautiful, open beach that always has activity with a spectacular view. This club has the tunes flowing and what I love about this beach is that the water is shallow and it's perfect for families with children.  The staff is always friendly and they always seem to have enough beach beds available. Head to the left when you hit the beach road.

Ziggy's Beach Club

is located closer to the southern point of Tulum beach just 4km from the entrance of Sian Ka'an. Ziggy's is a wide, soft beach with lots of shade provided by palm trees. Their menu is more gourmet and with a variety that you can enjoy in their quaint restaurant or down on the beach. Head to the right when you hit the beach road.

Las Palmas Beach Club

is host to the Tulum Winterfest's Wellness Village. Tulum Winterfest is the seven week event going on in Tulum from December to February. Las Palmas holds two domes that act as yoga and spa centers for this ongoing festival.  Whether you want a massage, Reiki, reflexology or another pampering treat, you can find it here as well as enjoy the beach with your family. Head to the left when you hit the beach road.

Ana y Jose Beach Club

is found at Km 6 on the beach road.  This is a great place to bring the family especially if you have kids since they have a playground on site.  This is by far one of the shadiest as it's set back among palm trees.  Ana y Jose is well known for it's good service and ceviche. Head to the right when you hit the beach road.

Pancho Villa Beach Club

is located at Playa Maya under the Tulum ruins.  Another venue of the Tulum Winterfest which will be the location of their music entertainment.  Bring the family there to enjoy the Caribbean with a view of the Tulum ruins looking down upon you.  The restaurant is home of a variety of plates with lots of palapa shaded tables to enjoy them under. There are even some hammocks to help you relax while sipping on a fresh Margarita. Head to the left when you hit the beach road.