Palapas: Mexico´s Way to Beat the Heat
While the Seminole Indian word for house is chickee and other Native Americans called theirs ramada, meaning branch, in Mexico, we call them palapas.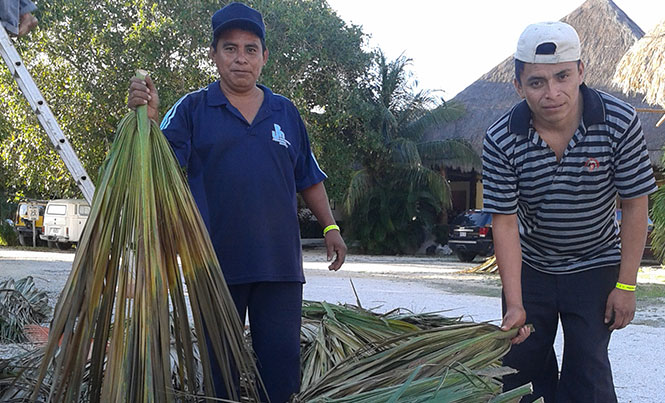 The two most common palapa types are one-pole palapas and the two-pole palapa, although custom designs can be adapted to produce variations. Palapas are most often found in coastal areas of Mexico, especially in Baja California and the Riviera Maya, but you will see them inland as they make for ideal sun protection. Speaking to local palapa roof workers, I was told that the most commonly used palm fronds come from the ejido Santa Maria and are part of the palm species genera coccothrinax, sabal and copernicia, also called huano.
As long as the wooden slats, which hold up each pairing of palm frond, are at least 30 centimeters apart, the roofing should last up to 10 years. Less spacing, less durability. Although the initial thatch is green, as it weathers it turns a more mature brown.
Want to see hundreds of palapas side by side, then Paamul, just 15 minutes south of Playa del Carmen, is a classic example. Taking a boat ride down the coast, and you will see this unique community nestled in its own bay, where the original palapas were built over 30 years ago to shield the recreational vehicles that came down from Canada and the U.S. during the winter months. Eventually, this design transitioned to semi-permanent structures, and now the palapa roofs often provide an authentic classic shelter, making use of the ocean breezes, for modern homes built with stone, rock, marble and cement.
Want to see a palapa up close? Then head out to any beach from Tulum to Cancun and you will find that many beach structures from small bars and restaurants to dive shops have these thatched roofs. Even many of the large all-inclusive resorts have palapas on their properties, and some are huge. Reserve a beach chair at a beach club and you will often be provided with your own individual thatch umbrella for shade. Order a tropical libation, sit yourself down and enjoy the shade of a century-long tradition.