Three Kings Day Celebration in Invasores: Outreach for People
On January 6th, Coco's Animal Welfare joined forces with IFAW, The Snoopi Project, GVI and Pequena Aldea to provide a special day of celebration for a community in need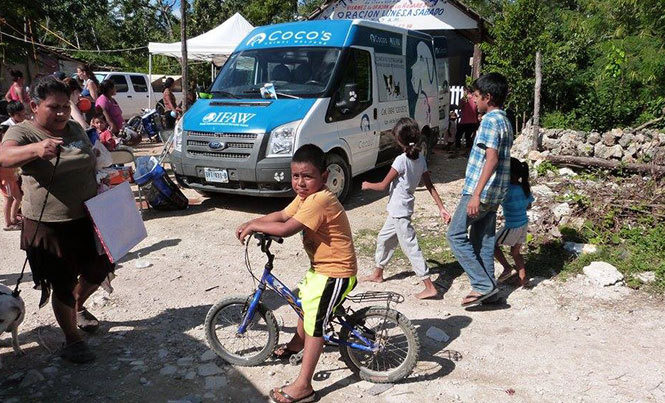 As the Coco's van headed into the little village of Invasores, children came running from everywhere, calling out to their friends to join them. They knew the van and they knew something exciting was going to happen. There were over 300 smiling children gathered to see what surprises awaited them. Their excitement, their surprise and all those smiles were heartwarming to say the least.
The Three Kings Day celebrations in Invasores, a very humble neighborhood in Playa del carmen, is a Coco's Animal Welfare initiative, sponsored by IFAW, The Snoopi Project – Riviera Maya, Global Vision International and Pequena Aldea. The help of volunteers and donations made the celebration possible for the children and families living in Invasores.
Donations of toys, shoes, clothing and treats were handed out to each child. There was also special bread served on Three Kings Day called Rosca de Reyes,that was shared with everyone.
Volunteers handed out bags of dog and cat food, some parasite treatments were provided along with leashes, collars and four new dog houses delivered by The Snoopi Project. Two more delivered a few days later.
Two used bicycles were donated and given to one lucky boy and girl. The little boy ran home to retrieve his report card to show how well he was doing and so he was given one of the bikes. A young girl that had missed most the day because she was at school was given the second bike. Soccer balls and new barbie dolls seem to be the most popular items at this party.  
When the Coco's Animal Welfare team began taking the mobile clinic van, donated by International Fund for Animal Welfare (IFAW) into the poorest communities in the area to treat the pets of families in need, they realized the heartbreaking state in which the people are living. Thus, began another project called "Outreach for People". Through this program Coco's collects shoes, clothing, food and water from local residence and business.
As the van drove away from the community, many kids, still clutching their new toy, waved goodbye, still beaming with smiles.
If you are interested in donating children's shoes or other items to help families in need please contact info@cocosanimalwelfare.com.