Foodies
La Bendecida Café: A Local Coffee Heaven
Mario Morante has become the local expert here in Playa del Carmen.  He has provided, not only a haven but a heaven for coffee lovers.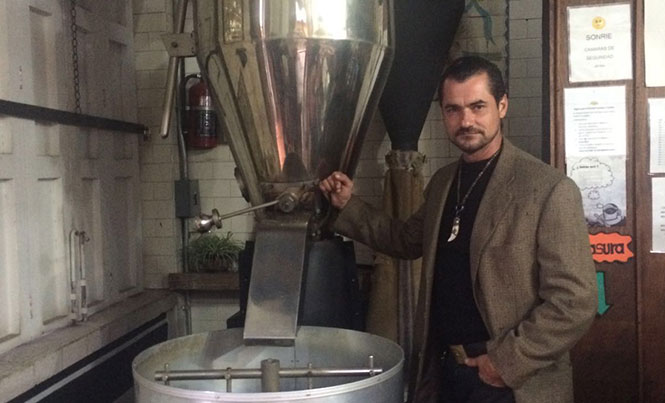 Here we learn more about him and his coffee sanctuary, La Bendecida Café
Where are you originally from and how did you find yourself in Playa del Carmen? 
I'm originally from Orizaba Veracruz, I came to Playa as I have always been attracted to the energy of this city.
What inspired you to open La Bendecida in Playa?
When I first arrived here, I realized there wasn't any good quality, freshly roasted coffee.  I'm a coffee aficionado and cannot go a day without a good soulful cup of coffee. Since I could not find that here, I went ahead and provided that for myself and Playa.
What makes La Bendecida different from other cafes here in Playa? 
Our coffee is 100% wildly grown Arabica from Veracruz's Volcano Pico de Orizaba. We roast on site guaranteeing freshness and body in every cup, and no other coffee shop has the variety of coffee mixes that we offer. Another big thing that sets us apart is that we aim to make our customers feel like they are part of our family. We try to make them feel right at home!
What are you finding is the biggest challenge of starting your own business here in Playa and how do you overcome that?  
The biggest challenge so far is educating people on the importance of having freshly roasted coffee versus dead coffee (coffee dies 30 days after roasting), once people realize the health risks they are taking by choosing the latter, they understand why we do what we do. It goes beyond trying to make a buck or two.
What has been the most fun starting this venture?
The most fun part of this venture is meeting so many incredible people and listening to their stories while sharing a cup of coffee.  My soul has truly been touched by the response of people to our coffee boutique.
What do you do on a day to day basis? What is the hardest part about moving here? 
Every day I check that my coffee beans are up to par as far as freshness goes, replace if needed, then I spend some time in the morning to greet my regulars and make sure my business needs are met for the day.  When possible I go snorkeling to find my peace. Thanks to this I can honestly say that moving here has been one of the easiest things I've ever done.  
What would be your advice to someone moving to this area to start a business? 
To focus on offering a service or product that offers a bit of their own culture and personality.  After all, it is the mix and displays of different cultures that makes Playa great.
You can find La Bendecida Café on the corner of Avenida 10 and Calle 34.  Stop by in the morning to meet Mario and learn more about their fresh coffee choices.