Foodies
The Pitted Date
Breakfast, lunch, or dinner, this vegan bakery and café has something for everyone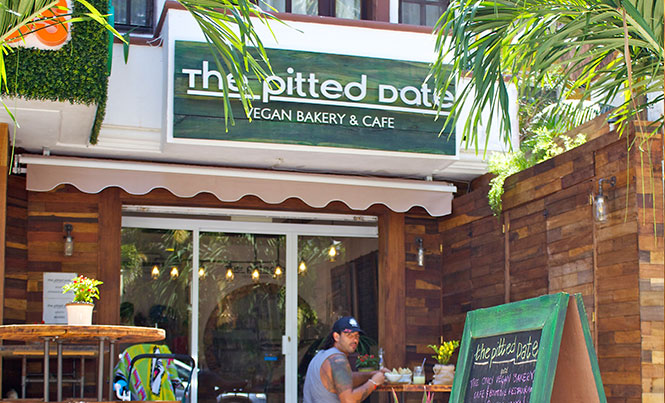 Located in the heart of Playa del Carmen, on 26th Street between 5th and 10th  Avenue, The Pitted Date is the city's newest eclectic hot spots for devouring.
Herbivores, carnivores and everyone in between will be dazzled by the flavorful menu, relaxing environment and friendly prices of this 100% vegan bakery and café!
Open 8 a.m. – 8 p.m. Monday-Saturday, the atmosphere of people coming and going begins with early birds seeking caffeine and a warm chocolate croissant, gently progressing to morning yogis replenishing their energy. Later quality breakfast seekers enjoy a black bean breakfast burrito or a toasted croissant breakfast sandwich served with fresh fruit. Those who work from their keyboards sip away at their energetic, juices and homemade almond milk chai lattes as the lunch crew pops in for a crispy grilled panini or the lentil black bean dahl that has received excellent reviews!
Throughout the afternoon, those enjoying the beautiful terrace casually chat over coffee, tea and a dessert. Favorites range from (but aren't limited to) mocha caramel bars, strawberry cheesecake tarts, peanut butter chocolate cups, brownie macadamia cream cheese cupcakes and we cannot forget to mention the rich decadent cacao chocolate cake that is making headlines in the community!
The Pitted Date is inspiring many local businesses by its mindful use of biodegradable containers, straws and cutlery! You can feel good about enjoying your meal for 'here' or 'to go'.
Owners Emma and Oscar decided upon the name, The Pitted Date, because dates, dátiles in Spanish, are a staple in tasty, healthy, vegan treats! Used often as a natural unrefined sweetener, delicious dates when combined with other superfoods and incredible ingredients leave customers feeling gratified.
It was just over a year ago, Emma, a vegan and raw food chef, was meditating and creating while living in Tulum. Wheels of manifestation turned in her head as she envisioned opening a vegan café/restaurant, and to find an amazing man that also shared the dream of bringing a baby into this world.
"We must all follow our dreams!" she said with a smile, holding the tiny fingers of her new adorable baby boy!