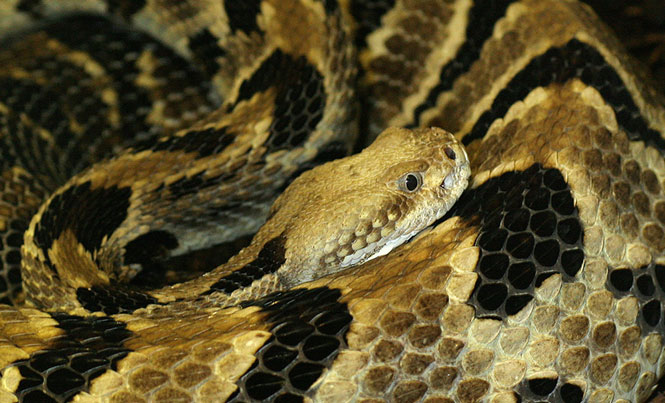 Most of the snakes you will come across are harmless, but in this second in a two-part series, we showcase the remaining two venomous snakes on the list:
Nauyaca Yucatán Hognose Viper (Porthidium yucatanicum)
Also known as a hog-nose pit viper, it is endemic to the Yucatan. Adults are normally 35–45 cm in length and they are brown and grey color patterned, with a turned up snout. Some specimens may grow longer than 55 cm. Females tend to be larger than the males. Many snakes are killed due to fear, despite being protected by law. They have long fangs at the roof of their mouth, and they will expose them when threatened. The venom is hemotoxic and requires Antivipmyn antivenom.
Cantill Mexican Cottonmouth (Agkistrodon bilineatus)
The hardest to find, they generally live in mangroves and close to water. This snake is commonly a dark black or olive color with a lighter belly and white stripes on its cheeks, and vertical pupils. The young have a yellow-tipped tail to attract prey. When this snake opens his mouth, it is white and looks as if it has a mouthful of cotton. As with other snakes, it also has heat sensing organs to detect any temperature change for hunting. They are shy and if threatened, would rather hide and use camouflage. Their young are born ready to survive on their own. The venom is hemotoxic and requires Antivipmyn antivenom.
Cascabel Rattlesnake (Crotalus tzabcan)
With a distinct rattle at the end of his body, this rattlesnake is beige and dark brown with diamond patterns down its body. Their main threat is human hunting. Therefore, they live in protected areas. Many snakes and other reptiles lay eggs. Rattlesnakes give birth to live, developed young.  They rarely bite unless provoked or attacked. The venom is hemotoxic and requires Antivipmyn antivenom.
Throughout history, snakes have been misunderstood and suffer at the hands of past religious beliefs or old tales that depict snakes as evil or a symbol of the devil. In fact, snakes mean no harm to humans. They are an important part of our ecosystem and should not be killed.
If you have questions or want a snake removed, contact Raúl Padilla Borja on Facebook. He also has educational wildlife presentations available.