Bugs: They´re What´s for Dinner
Mexico is a great country to expand your gastronomic horizons. Catherine gives you some options that may push you to your limits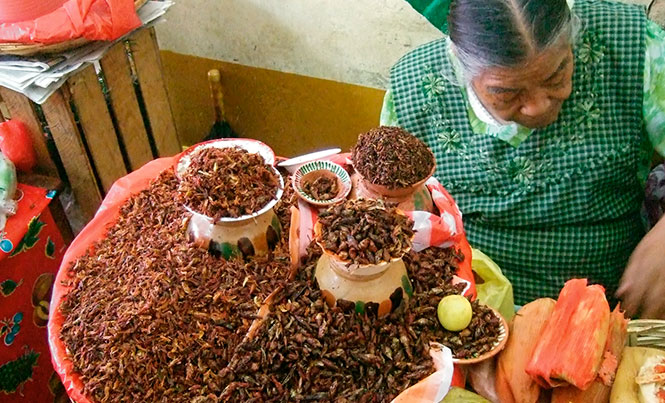 Yuck, ew and icky may be the first words to come out of your mouth when seeing grasshoppers and other flying or crawling edible insects on a restaurant's menu. Instead, while in Mexico try being like Andrew Zimmern on the Food Channel, and try one of these delicacies at least once. Maybe you too will declare, "This is the best thing I ever ate". We pay dearly for and eat fungi (truffles), fish roe (caviar) and crocus flowers (saffron), so why not replicate some of the early Aztec diet by eating protein-rich, fat-free worms, ants or scorpions.
Gusanos

. We have all seen these squiggly worms at the bottom of mezcal bottles, full of protein with aphrodisiac-like traits and tasting like French fries. Maybe. A side of mayo anybody? Don't want to eat a whole worm? then just a touch of

sal de gusano

on your burger will stop that insatiable craving. Find bouquets of hanging gusanos (like those dried chiles, so popular in the 80's) in Oaxacan markets.

Jumiles

. Reminding us of the popular "Fear Factor" show's crazy stunts, these "stink bugs" are often eaten while still alive, crawling or flying. In Taxco, they are sprinkled with lime and have a taste profile of cinnamon and mint. A Goldschlager Mojito, with a side of

jumiles

, please!

Alacranes

. In the Yucatan, placing bowls of water at the foot of your bed is intended to ward off any scorpions from unexpectedly crawling under your sheets and giving you a stinging surprise in the middle of the night. Craving a crunchy midnight snack? Then, find them deep fried in a corn batter, with a lemon, parsley sauce. Scorpion Francese anybody?

Chapulines

.

This may be the most popular insect found throughout Mexico, not just in specialty markets, but even in your local supermarket, where these grasshoppers are often found dried. Tired of the ubiquitous peanuts, Chex mix or olives as a bar snack? Be a hit at your next get-together by taking the dried grasshoppers, dousing them with

chili powder and lime juice. Crunch, crunch. Just do it!
Editor´s Note: I have been told by my coworkers that I must try Don PP on the highway if I want to have some of these delicacies. They highly suggest a dish of escamol (ant eggs) which they swear are delicious. I'm not entirely convinced…yet.