Death and Catrinas In Playa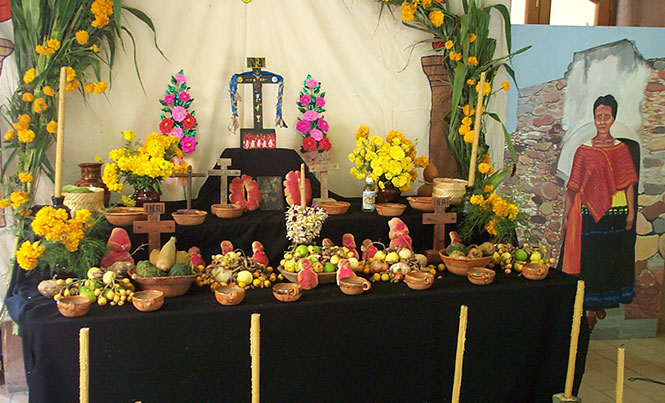 The Day of the Dead will see a number of festivals, contests, craft shows, dining, conferences and a series of activities, all based around the topic of death
In the coming days, Mexico will be preparing to receive and entertain the dead. A number of festivals, contests, craft shows, dining, conferences and a series of activities will be made around the topic of death.
A lot has been written about a Mexican's relationship with death. A popular saying says "hasta la muerte le pela los dientes" (death has nothing on him). The altars and offerings to the dead seen on the Day of the Dead cause great admiration among all who see them, but be aware they are not the same. Altars are dedicated to a Catholic saint or divinity, while offerings are made for a loved one, a family member, a friend or a celebrity in the community or country.
Altars are derived from pre-Hispanic rituals and the Catholic religion. Both beliefs conveniently converged at this time, making for an interesting and unique blend of traditions. The rituals vary according to the region, as do the colors, symbols and shapes of these offerings. What doesn't vary is the deeper meaning of waiting and reuniting once more with those who have already passed away.
In the Janitzio and Patzcuaro lake areas of Michoacan graves are decorated with cempoalxochitl flowers, where relatives of the deceased spend all night accompanying them, as it is believed that they return on November 1 and 2 to enjoy what they liked while they were alive. Other places like Puebla, Morelia, Guanajuato, Queretaro, Hidalgo, have elaborate altars and offerings contests. They include candles, chocolate, pan de muerto, wine, the deceased's favorite food, toys, and crushed colored paper.
In some places it has become a tourist attraction, but many people are still putting their offerings in their homes waiting for their dead, as it happens during Hanal Pixan for the Maya.
Here in Playa, you can enjoy beautiful handmade pieces of high quality, as well as alebrijes (fantastic beings) from 1 to 6 November in the contest Catrinas y Alebrijes 2016. Here the audience can participate by selecting one of the winning pieces. The display is in Plaza Quinta Alegria and the awards event is on Saturday 5th at 7 pm. So come down and get to know Mexican folk art!