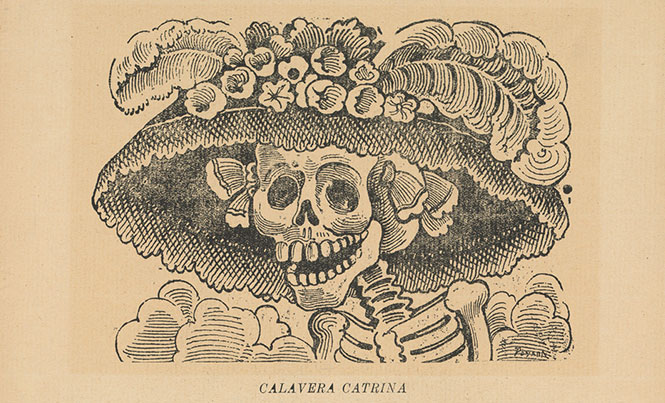 Jose Guadalupe Posadas has given the subject of death a worthy representation for Mexicans, which is is unserious, and even funny
On November 1 and 2, while out and about on the streets of Playa del Carmen or elsewhere in the Riviera Maya, you will likely encounter the image of a skeletal figure. It might be in drawings, as large paper mache figurines, or appearing on people's faces through makeup. It is known as La Calavera Catrina (Dapper Skeleton), and it has become an icon of the Mexican Día de Muertos, the Day of the Dead. So, what is the origin of this image, and what does it represent?
It was originally created by a lithographer and printer named Jose Guadalupe Posada in 1910, although as yet it did not have a name. That came later, when painter Diego Rivera used it in one of his murals in 1948, calling it "La Catrina". Ever since then, it has become a part of Mexican culture, symbolizing the contrasts between the upper and lower classes in the country. The female skeleton is dressed in a hat that indicates the upper-class outfit of a European in the early 20th century, in particular, the French. Posada felt that people who dressed like this were trying to hide their mestizo origins and adopt European aristocratic traditions. In Mexico, the social classes have always had a great divide between them, with the highest class enjoying many privileges, with the lower classes nearly invisible.  
Posada stated that "La Catrina has become the referential image of Death in Mexico. It is common to see her embodied as part of the celebrations of Day of the Dead throughout the country". In this manner, Mexico is unique among countries in the way it pays homage to death. It is expressed through songs, respect and humor; they are all common Mexican expressions towards death.
Curator David de la Torre from the La Plaza de Cultura y Artes sums it up this way, "Death brings this neutralizing force; everyone is equal in the end. Sometimes people have to be reminded of that."