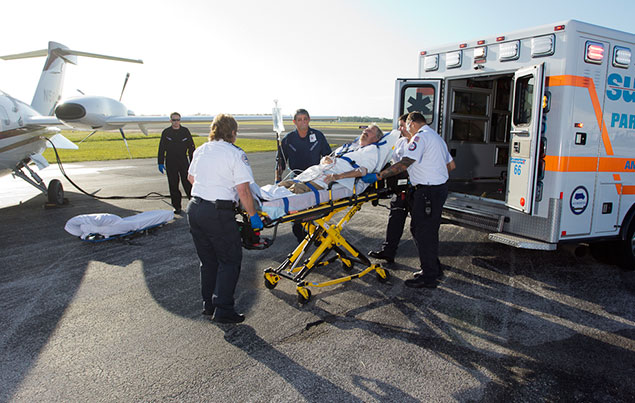 … you, or someone you love has a serious medical situation and needs to be back home within hours?
If you spend any significant time in Mexico, there will come a time that you, or someone you know will need to get back home to a known medical facility, or even to a specialty hospital such as Mayo. Within hours. Would you know how to navigate international law, the Mexican medical system, and medical evacuation companies in order to quickly get back to the States or Canada?  Plus, would you be able to afford the $20,000 – $50,000 cash-on-the-barrelhead payable upfront cost?  And, God forbid, what if there is a death?
Wouldn't it be wonderful to know that for about $500 per year you can have a wonderful sense of security and all of these worries can go away. An emergency evacuation membership can cover you, your spouse, and in many cases children and even grandchildren.  And insure that you get back home to the hospital of your choice so you can be near your loved ones and have access to specialized facilities and trusted doctors.
Only one medical evac firm serving Mexico is integrated from "a to z" and in the past year has conducted over 400+ successful international evacuations to the U.S. and Canada.  They get the call, quickly size up the situation using in-house bilingual doctors who consult with local doctors, and can then quickly put one of the 51 planes that they either own, or have under contract, in the air.  
Flown by pilots with an average of 10,000+ hours experience and a medical crew with a minimum 5+ years of emergency room experience and certifications. The plane flies under pre-approved blanket FAA and Mexican aviation regulations and can be here to the Riviera Maya in less than 2 hours.  No one can match their speed, medical skills and performance as certified by the two largest medical evacuation certification firms in the world.  No one!
The unexpected happens.  It is incredibly inexpensive to protect yourself and your loved ones.
John Klug
Senior Consultant Riviera Maya
Travel MedEvac
984-169-2600   (Mexico)
303-719-5584   (US)
Call or email with any questions and to learn the time
of the next group seminar concerning medical evacuation options.