Thanks to the efforts of ardent photographers, this spot has been given back to the public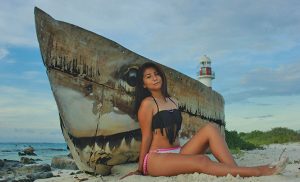 I take the expression "beach life" quite literally. I go to the beach on a regular basis (my secret: sunscreen and spare time), but sometimes it is hard to find public access to the beach. This is upsetting, and it is happening everywhere, escalating to unfortunate levels as it did in Akumal last year. Cancun suffers from the very same problem, with only eight public beach accesses to be found all along its coastline.
Don't get me wrong, this article is not to complain about what has been taken from us. I prefer to celebrate one of the few public space re-appropriations that we have accomplished in the past year: Punta Cancun, one of the best and a long-forgotten spots in Cancun.
Located at kilometer 8.5 in the Zona Hotelera, Punta Cancun is a cape that works as a seawall, making it an isolated area of calm water and soft waves. It is appreciated as such because, occasionally, Cancun currents can be a little rough. Punta Cancun has two landmarks that make it a haven for local photographers: its red lighthouse, functional and symbolic, and the boat carcasses that have been turned into sharks by artist Farid Rueda.
Those very same photographers were the ones responsible for the re-appropriation of Punta Cancun. They were the first to confront security guards in order to get in. The access to the place is via the Playa Caracol entrance, making it impossible to get there without going across the hotel's beach facilities. Many hotels installed fences which forced photographers to walk under the piers with their gear lifted above their heads. Some did, while others refused. It became hostile until the police department intervened after a complaint was filed. In July, the authorities compelled the hotels to remove their fences, although they tried putting them up again a few times after that. They still give you looks, but they can't stop you from going there now. The news did make it to some papers, but most locals are still unaware of the existence of this place.  Information was mainly shared on the Internet via Fotógrafos de Cancún, an open Facebook group dedicated to professional and amateur photography. It is a great resource for networking, sharing experiences, learning new tricks and, of course, finding secret spots.