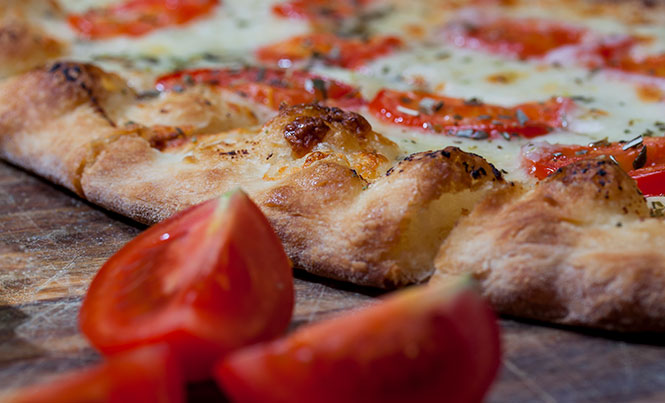 A few weeks ago a reader requested an article on the best pizza in town. To be honest, I don't think there is actually just one place with THE BEST pizza in Cancun.  There are plenty of options: some are classic and traditional, some have a modern or local game-changing addition (like avocado or lobster!).  I don't even have enough space to write about them all! Let's see just a mixed bunch of my favorites from all over town, in no particular order:
Pizza Casa Jaguar:

Great pizza, great prices and a green garden that gives it a jungle vibe. Vegetarian options are awesome and if I ever do another article on burgers, I will for sure include them again. Favorites:

Jaguar de la Casa & Vegetariana Plus

. Two locations in town (main one in Bonampak Avenue).

El Tigre y El Toro:

Thin, crunchy Mexiterranean pizza at two locations (I recommend their Nader Ave. garden pizzeria), and a serious selection of wine. My favorite pizza is the one and only

La del Tigre

.

Mr. Lasaña:

More than just a pizzeria, Mr Lasaña is Italian cuisine for real. Pasta, salads, pizza – everything they do is awesome. The lasagna is out of this continent and the prices are unbelievable for the quality and effort they put into it. My favorite? Just go and see for yourself! They are at Calle Luciérnaga SM 503 (you might want to Google that).

Rino's Pizza Time:

Spacious, classy and considered by many (including Tripadvisor) as the best pizza in town. Rino's has it all: aesthetics, food and on point mixology. I just can't decide which pizza of theirs is my favorite, so better just pay them a visit at their only location in Bonampak Avenue. They also have a large panini menu worth trying!

Special shout out to

Piola

's smoked salmon pizza; I think it is called Rimini. This

croccante

specialty keeps me coming back all the time!

Finally, if you want to take your children out for pizza and fun,

Peter Piper's Pizza

will rule until the end of time, right? Those were my favorite Cancun pizzerias. Did I miss any?
@theplayatimes