Foodies
Chef Karla's Cooking School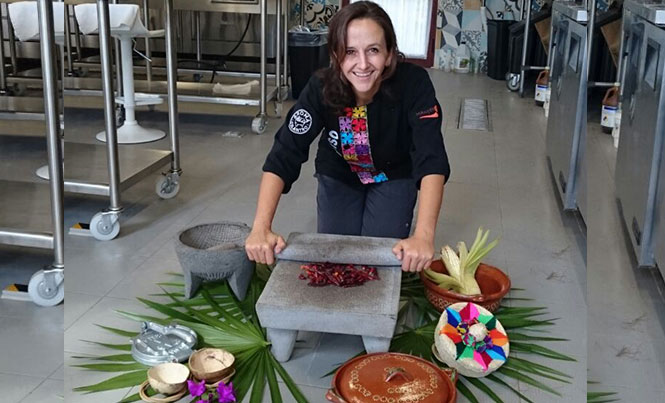 Take some cooking classes at El Pueblito and impress your friends with authentic Mexican dishes
As someone who enjoys being in the kitchen, I was really looking forward to my day at El Pueblito's cookery school, where I would receive professional cooking lessons. The school invites guests to learn how to cook authentic Mexican food. I was fortunate enough to be under the tutelage of Chef Karla Enciso, who would show us how to make some delicious Mexican desserts.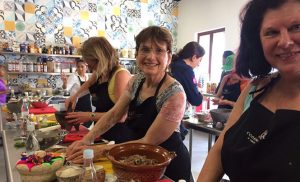 Originally from Mexico City, Chef Karla speaks four languages and has been living in Quintana Roo for fourteen years. She owns the Manyee and Aroma Cilantro restaurants in Cancun, and has been involved in local Maya communities, working on a project for the conservation of their gastronomy. She strongly encourages the use of local ingredients and fish products from Quintana Roo.
Before getting to the dessert, we ate some delicious quesadillas on tortillas made by the students. They were accompanied by pico de gallo, made with onion, chile, cilantro and lime, along with salt, pepper and finally, tomato. Then the class began, and we soon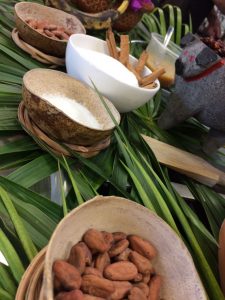 produced several desserts over the course of a few hours. These included a mousse made from guayaba, a caramel jelly, and my favorite: corn cake, which I shared with grateful friends that evening after dinner.
Chef Karla was very knowledgeable and patient. Since there were many people in the class who needed instruction in either English or Spanish, she used both, switching with great fluidity. She is passionate about what she does for a living and it got me very excited. I was amazed at how she was able to control the class calmly and with authority. My favorite classes are held from Tuesday to Saturday from 11:00 am until 2:00 pm. The cost is $35 USD or $550 pesos per person. If you are a local with official ID, you receive a 25% discount, and this includes your materials, food and some cocktails prepared by the sponsors, Tequila Patron. To see all of the cooking classes available and to book classes check out their website www.mayakobacookingschool.com. You can also visit their Facebook page/@elpueblitoatmayakoba or phone them on 984 122 5024 for more information.