Catherine Salisbury: Underwater Photography Lover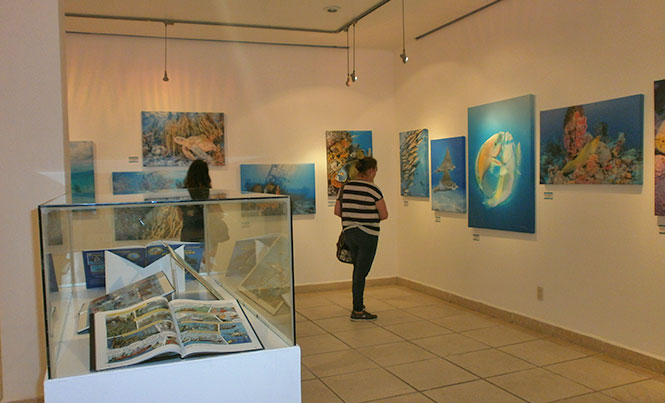 From March 2 to March 22, a beautiful exhibition of underwater photos and paintings was held at the Museum of Cozumel. Entitled "Love of Sea and the Spirit of the Calypso", it was the work of art duo Catherine Salisbury and Dominique Serafini. I met with Catherine, and she shared her story and feelings about Cozumel.
The Playa Times: Catherine, please tell us about your personal diving history and this beautiful exhibition.
Catherine: It is my first exhibition in Cozumel, and we are really happy with it. The people from the Cozumel museum have been so kind and helpful. I'm in love with the sea and the creatures that inhabit it, so I decided to use my artistic talents to protect what I love and to inspire other people to love the underwater world.
I'm from a cold country called Canada – Montreal, to be exact. I have a degree in Fine Arts from Concordia University, specializing in film and photography. When I discovered scuba diving 25 years ago, it

was like a revelation. In 2000 I moved to the Caribbean island of  Bonaire.
And then you met Dominique Serafini, who is internationally known for his work with Jacques Cousteau?
Yes, I met Dominique in 2000 on Bonaire, on one of the Caribbean's most exceptional wrecks, The Windjammer. We fell in love, and he became my dive and life partner. In 2001, together with Dominique, I wrote the book Dreamwrecks, The Most Spectacular Wrecks of Aruba, Bonaire & Curacao.
What do you think about the reef of Cozumel?
I'm completely amazed! It was a huge surprise when I started diving here last year. It is full of life, the corals are beautiful, and the reef is very healthy. I found it to be more beautiful than Belize, with the Palancar reef and the natural caves. The drop-off is one of the best dives I've done in my life. Dominique thinks the same, so we will definitely come back.
Unfortunately, after hurricane Wilma in 2006, a lot of people thought that the Cozumel reef was dead, and there was nothing left to see, but this is absolutely false. After Wilma, the reef was saved by the constant strong marine current. It came back to life in under two years.
For more information about Catherine and her work, visit
www.dreamwrecks.com/DreamWrecks/cathy_salisbury
 http://www.catherinesalisbury.com/