Cold Brew Coffee is finally coming to Mexico via Tulum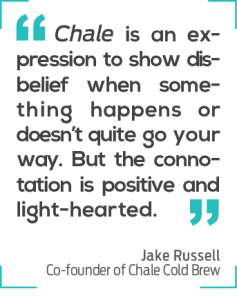 Chale Cold Brew is the first company to craft and bottle cold brew coffee in the entire country. When it comes to finding the inspiration to be the first of its kind, Chale co-founder and Tulum resident Jake Russell says "Tulum is an easy place to become inspired. It has a magical environment where opportunities are always there.  You just have to be open enough to recognize them and creative enough to execute them."
Having drawn inspiration from the local culture, Chale is keenly dedicated to giving back to the community as much as possible. Rather than shipping off to the U.S. for supplies, Chale is committed to supporting local businesses and communities. All of the raw ingredients that they use are from small producers here in Mexico.
But what about the name? "Chale is an expression to show disbelief when something happens or doesn't quite go your way, " Jake explains. "But the connotation is positive and light-hearted. Like, when the water runs out when you're showering (happens in Mexico!). Definitely a 'chale' moment. We love the charming ways Mexicans express themselves. Everything is so stress-free!"
So, they've got a great idea, great values, a great name and a great attitude. So what about the coffee? It is smooth and refreshing, the perfect cool drink for us here in the Caribbean climate. You can take it to the beach or enjoy it while sitting in front of your computer getting some work done. Chale has this easygoing, mellow taste that mirrors the culture and personality here in Tulum.
As of now, Chale is sold exclusively at Tulum Art Club on the Main Avenue in Tulum, but will be expanding to other shops in town very shortly. I encourage you to stop by and enjoy a bottle. I highly recommend the Smooth Original. And make sure to keep an eye on Instagram/@chalecoldbrew for updates as they become available in more shops around town.