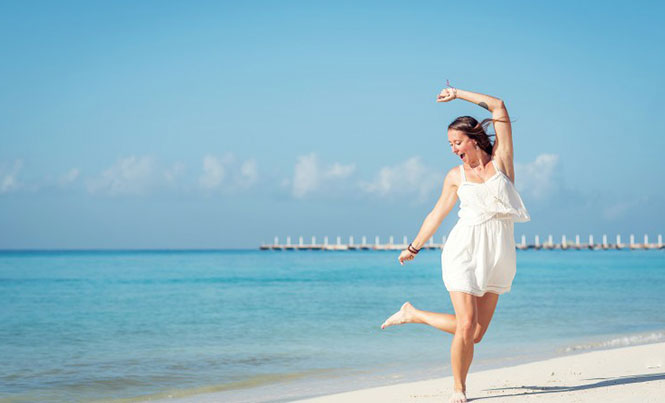 A different kind of dance event takes place each week in Playa
I was introduced to the practice of 'Divine Dance' about a year ago and it has become something I look forward to and derive immense enjoyment from each and every week. There are no rules in Divine Dance, no steps and no wrong turns. All are welcome and no skill level or body type is out of place.
After a short warm-up to mobilize the joints and loosen up the muscles, the all-female group of dancers spreads out, moving around the spacious studio 'Palapa Suuk'. The track listing varies from 80s classics to 90s pop hits and current dance tunes, with a few slower songs interspersed so we can catch our breath. Although the sessions are often led by regular dancers with a passion for creating playlists, Divine Dance was originally started in Playa Del Carmen by Sarah Chamberlain. Sarah travels, blogs, teaches Kundalini Yoga, holds retreats and facilitates the practice of dance wherever she goes. Follow Sarah at www.sarahsomewhere.com
The benefits of dancing are numerous and are both physical and emotional:
Enhance your mood
Moving your body feels good! If you're happy, dance and you will feel ecstatic. If you're sad about something, dance and cry – it helps, I promise.
Get your blood flowing
Dancing counts as a cardio workout. You'll notice your breathing increase and your temperature rise as you move to the beat of the music.
Mobilize your spine
Our spines are designed to move in a variety of directions, rotate, bend, extend and flex. Take it slowly at first if you're not used to moving your spine in this way.
Improve your balance
Turning and moving in different directions helps you improve your balance the more you do it, this could also help prevent injuries.
Don't worry about how you look to others, Divine Dance is a completely non-judgmental all-female dance group. It's just about having fun so twist, twirl, stomp, sway, shake and smile!
Sara Jones
Spa, Wellness & Lifestyle Expert, Spa Consultant and
Founder of Spa & Wellness MexiCaribe magazine