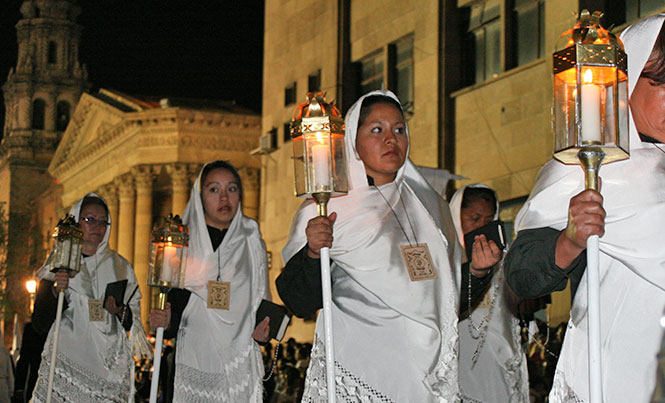 Learn about the traditions of the Easter season, which still contain many rituals of the Catholic religion
Although some aspects of the Catholic religion have been lost in Mexico over the years (even at Easter), we still have seasonal traditions. In addition to Ash Wednesday, the ritual which marks the beginning of Lent, there are other activities that combine religion with recreation and commerce. Here are some of them:
The Friday of Sorrows
On this day, people and churches often set out a table adorned with China paper, oranges with purple flags of the same material which represents pain, yellow flowers, chia seeds, lentils, candles, and gold and silver objects. It is customary to also give flavored water and sorbets to people who come, perhaps because during the days of the viceroyalty there were dances and people sated their thirst by buying water. This tradition is carried out a week before Easter in memory of the seven sorrows of the Virgin Mary through the passion of Jesus.
On Thursday night in the Guanajuato capital, they perform the dance of the flowers. After it finishes, the young people go to the Garden of the Union to give flowers to the girls. It is a quiet, flirtatious, and tranquil event which is highly recommended.
The Visit of Seven Houses
This is also known as the Visit of the Seven Altars. On the afternoon of every Holy Thursday, people travel around the seven temples recalling the coming and going of Jesus between the Roman authorities, to see who would be responsible for judging him. It is customary to close streets to ensure the safety of the people. Outside the temple, they give away fresh chamomile and small loaves of unleavened bread in exchange for a donation. On the streets, they sell traditional dishes and sweets.
Procession of Silence
On the afternoon of Good Friday, parish priests walk through the streets leading a procession, carrying the cross, with the crucified Christ and the Virgin. They walk barefoot, carrying heavy wooden crosses, as a way for the penitents to cleanse their sins. This tradition began in Mexico in San Luis Potosí during the era of new Spain, and this city is the most popular for tourists visiting the city specifically for this event.
The Burning of Judas
On Easter Sunday, they hold the burning of Judas, an allusion to the apostle who betrayed Jesus, using handcrafted figures made of cardboard or papier-mâché in the form of the devil. On this day the town also takes advantage by making figures of corrupt politicians who receive their punishment by being burned. Much like the nativity play at Christmas, this act serves as a form of catharsis for the majority of people.