Happy Anniversary, Rauxa!
On the evening of June 9, joined by a muscular bunny and hot robots, we celebrated the one-year anniversary of this sensual, charismatic and highly entertaining show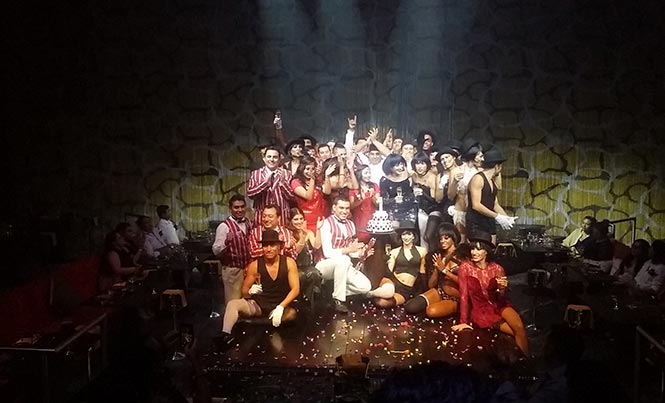 What a weird and wonderful evening we spent at Rauxa in the Catalonia Royal Tulum,  celebrating this cabaret event's first anniversary on June 9. I had briefly checked Trip Advisor before we left, but didn't really know what to expect. I still don't really know how to define it, but it was nothing short of highly entertaining.
Upon arrival, we were directed to a room where attentive staff treated us to elegant corsages, tasty cocktails and canapés. After welcome speeches from the event's management, we watched a short video documenting the history of the show, from the venue's construction to the rehearsals and the creation of the imaginative costumes. This glimpse behind the scenes of what we were about to experience was a nice touch. It became clear early on that we weren't intended merely to be spectators at this show, but rather, part of the Rauxa family. And so our new family, featuring hot robots and a muscly bunny, arrived in their crazy costumes to escort us to the main venue.
So, who or what is Rauxa? Rauxa was our hostess for the evening; a sensual, charismatic and liberated lady who walked among her audience, daring us to embrace freedom, love, and unconventionality, at least for this one night. Rauxa is a complicated girl; her many sides depicted by the expertly performed scenes of song, dance and acrobatics that drew us into their web. Rauxa is an alternative attitude that you surrender to as the show progresses.
The sensorial treats weren't limited to the stage, however. The presentation of our meal was enough to compete with the dancers' costumes and each dish was a delight. I'm still thinking about the duck confit with parmesan ice cream. It sounds so wrong, but it tasted so right.
Something that was unfalteringly right all night long was the music. That band didn't miss a beat and the musical arrangements accompanied each sexy, silly, tight and toned performance perfectly.
If you can imagine a combination of Cirque de Soleil, Alice in Wonderland, Dita von Teese, Lady Gaga and the Beatles' psychedelic era, you might have an idea of what an evening at Rauxa means. However, I suggest just grabbing your partner or a group of friends and experiencing it for yourself in all its wacky glory.
Congratulations to all involved and thanks to Miguel Conde and Pedro Garcia of Catalonia Royal Tulum for the invitation and warm welcome.