Foodies
Red Pozole Jalisco-Style (Pozole Rojo Estilo Jalisco)
A favorite over the holidays, this hominy stew is a well-known, popular Mexican dish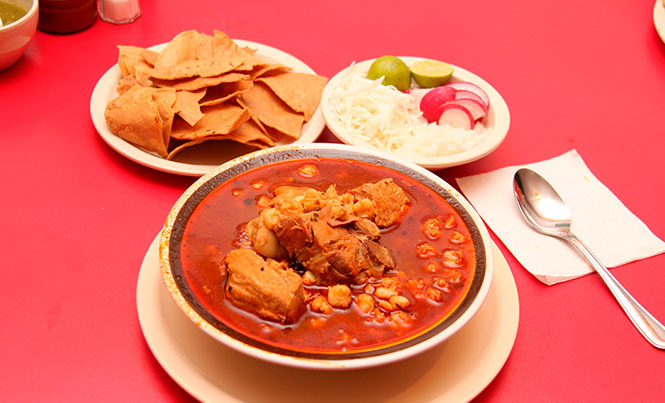 A traditional dish to prepare over the holidays in Mexico is pozole (hominy stew), originally from the state of Jalisco. It is now one of the most representative dishes of Mexico in the world, and eaten all year round. Here's the recipe.
Ingredients
700g dried hominy
1 head of garlic
1 kilo loin of pork
½ kilo leg of pork
1 onion
100g chile ancho
100g chile guajillo
Salt
Accompaniments
1 shredded lettuce
Dried oregano
Radishes, thinly sliced
Chopped onions
Lime
Tostadas
Chile piquín
Method
Start by removing all seeds and veins from the chiles and soaking them in hot water. Reserve. Rinse the hominy and place in a saucepan with the garlic and enough water to cover, and let it simmer over low heat until is tender. Cook the meat in salted water (covering it), until it is tender too. Remove the meat from the broth and reserve it; this is very important! Cut the meat into large chunks. Blend the chiles very well with their soaking water and strain and add to the hominy. Stir the meat and some of the broth into the hominy. Add salt, bring to the boil, then simmer for about 20 minutes, until the stew is thick. Remove and discard the garlic.
Serve the pozole and add the accompaniments as you wish. Instead of tortillas, we have tostadas when we enjoy this dish.
Any questions, please send me an email to riverakitchentulum@gmail.com, I will be glad to answer! Buen provecho, hermosos!
Rivera´s Kitchen Tulum
Mexican Cooking Classes & Culinary Tours
"The passion of Mexico in your kitchen…"