Entertainment
Friendly Events at Reina Roja for Nights of LGBT Fun
Join Ginger and her collaborators for the latest LGBT nights of friendly fun at Reina Roja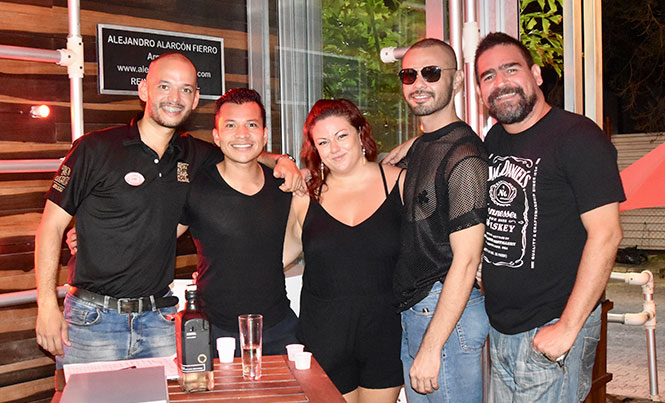 Playa del Carmen has taken a new turn with its LGBT events, thanks to Friendly and its team. A little more than a year ago, I presented the monthly event by Julio Niño at Live Aqua. He has now expanded with a couple more venues and weekly evenings. Among his events, are aPecar and Sungays.
The one that has had the most success so far is aPecar, which means "to sin" in Spanish. aPecar takes place every Friday from 8 pm to 1 am in the lobby bar of the hotel Reina Roja, located on 20th street between 5th and 10th Avenue. You can't miss it!
"La Bien Querida", Reina Roja's restaurant and bar, have all sorts of delicious drinks and food on their menu. Friendly has joined forces with Boys&Boys and LesMex for this event. They are doing things differently than any other LGBT event in the area. The night consists of different local guest DJs and various types of performance every week for everyone's taste. The show takes place around 11:30 on Friday nights. So far, we've had super drags, burlesque shows, Indian dance, duo, and more. The well-mixed public has shown its interest to the fullest. The entrance fee is only 70 pesos and if you purchase it in pre-sale with me you will receive the welcome shot of the week.
For LesMex's second anniversary, celebrated in collaboration with aPecar last March 23, we had three types of vodka skittles shots! On another evening, there were mezcal shots produced by a local business. The team of organizers are great, from Julio who takes care of running the administration of the event, the venues and the sponsors, to Jorge Amalguer, who produces the shows and has been in the industry for more than 15 years now. Then, there's me, Ginger, who takes care of the promotion on social networks and takes pictures during the event through Life is a Beach Productions.
Join us every Friday and bring your friends, you don't want to miss it!