Art & Culture
Second Edition of Eco Cultural Festival of the Riviera Maya
Earth Day was marked by the second edition of this event dedicated to raising awareness of the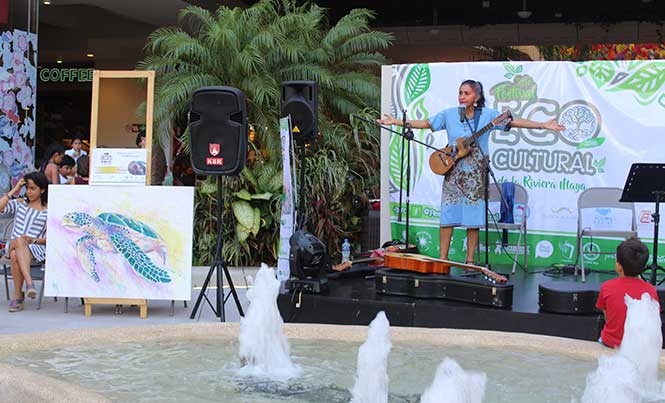 On Saturday April 21, to mark the celebration of International Earth Day, the Eco Cultural Festival of the Riviera Maya was held for the second consecutive year. The event was organized by visual artist Leonard Escamilla, Edén Galindo, Itzel Cardoso, communicators and cultural promoters.
At dawn, we began with a ritual, offering thanks to the Earth, the water, nature and all that binds us to this planet. The ceremony was directed by teacher Carmen de la Torre, an activist and guardian of ancestral wisdom.
Later, we did a cleaning of the beach at Punta Esmerelda, with the help of volunteers and sponsors. Thanks to the care and cleaning work of our public servants, we collected less garbage than the previous year. It was still 50 kg that had no business being there at all. We all should regard it our duty to pick up trash anywhere we go.
In the afternoon at Quinta Algeria, we held an art workshop for children who, under the guidance of Chetumal artist Yhazael Villegas, created masks made from recycled material.   
Visual artist Iván Rosales donated one of his works to help raise funds, as this festival is a citizen-based initiative. The painting was raffled among the assistants and on social media. Music was provided by Lety Rioja, Erick González and Manuel Santonián. Contemporary dance was performed by CEART Equinoccio. The aerial dance delighted the public that was present, along with tourists that halted their journey down Fifth avenue to gaze at the spectacle of Aerofobia.
Biologist Aurora Beltrán from Puerto Morelos' botanic garden held an interesting conference full of data and propositions for a sustainable society. We finished with a screening of a documentary about the effects of massive tourism in Quintana Roo, and the social and economic inequality that it provokes in the local population.
Finally, there was an announcement in favour of Xcacel, to prohibit the destruction by the hotels of this sanctuary for marine turtles. We would like to thank all of the assistants, artists, volunteers, sponsors, media and The Playa Times. We hope to continue doing more to help our planet!