The Margarita Classic or Contemporary?
We gave Sara a very difficult assignment. Find us a really good margarita in Playa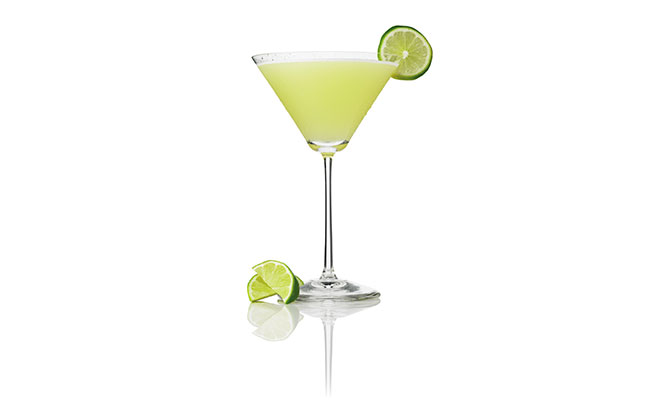 With an abundance of fresh, juicy limes and no shortage of quality tequila, it's no wonder the margarita is a favorite among locals and visitors alike, here in our beautiful, sunny beach town. The quintessential 'Mexican' cocktail was first concocted sometime around the 1930's and over the decades it has evolved to include a wide array of flavors and styles. Opt for the house tequila or make it your own by choosing your preferred brand and variety of tequila: blanco, joven/oro, reposado, añejo or extra añejo (white, gold, rested and aged, aged or ultra aged).
Whether served as a classic cocktail 'on the rocks' or given a more modern flair and blended 'frozen', the traditional Margarita includes tequila, an orange liqueur (queue the discussion over Triple Sec, Cointreau or Controy), fresh lime juice, simple syrup and a thick rim of salt around the glass.
If you head down to Sr. Dan's Margarita and Sports Bar, a local favorite, situated at the very start of Quinta Avenida near the ferry terminal, you can test out an assortment of flavors including kiwi, coconut or jalapeño and cucumber margaritas.
I always like to ask the server how the quality of their bar's margarita holds up: the more emphatic the response, the better! On a recent visit to Kitxen, located on Quinta Avenida between Constituyentes and Calle 20, my guests had their thirst quenched with an extremely potent and delicious traditional margarita – no short pour at this bar!
If you are looking for a more upscale location in which to enjoy your margarita, try Aldea Corazon, Quinta Avenida and Calle 14. Work your way through the traditional, passion fruit and mango margaritas while enjoying the view over the scenic garden cenote.
In case you prefer exploring the more local side of town, stop by El Fogon on Avenida 30 and 6 bis. The line up outside is testament enough to the food and you won't be disappointed by their golden margarita.
Whichever bar, restaurant or beach club you find yourself in around Playa del Carmen, you are sure to see a margarita or two on the menu. If the first one is not to your taste, just try a different version!
¡Salud amigos!