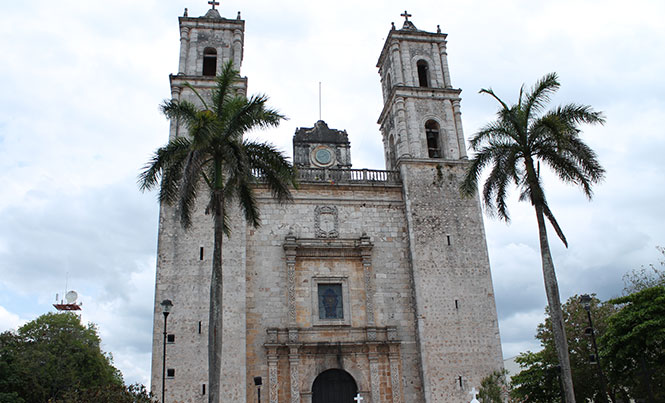 Looking to do something different, away from the beach? We took a day trip to this small, colonial city just an hour and a half drive from the Riviera Maya
Valladolid is located in the state of Yucatan and only an hour and a half west from Playa del Carmen and Tulum. Although it is a quick stop for the large Chichen-Itza tours, Valladolid never feels crowded and is a clean, beautiful, small city to walk around and explore. Like all towns in the Yucatan Peninsula, there are cenotes close by that are worth exploring and on a hot day even more worthwhile.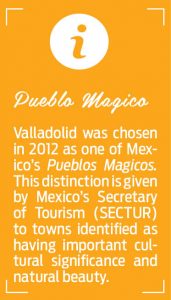 Things to do:
In the morning, head to Cenote X-keken (aka Cenote Dzitnup) and Samula. Both cenotes are not open air like you see here in Playa at places like Jardin del Eden. They have steep stairs down into a huge open limestone cave. The ceilings of the caves are quite high,  and each has an opening at the top that allows natural light in. The water is cold and refreshing and a great way to start your morning.  
Both cenotes are located on the same property, and the cost is $100 mxn for entry. They also offer a more expensive all-inclusive package that includes lunch and drinks but pass on it. There are great restaurants in Valladolid where you will have a better meal for less money.
There are vendors who rent life jackets but if you don't need one, just politely decline as they are not mandatory. The vendors will also try to sell you clothing and souvenirs. If you´re not interested, just politely decline.
After the cenotes, head into Valladolid. There are parking lots along the roads that lead to the zocalo (town center), or you can park on the streets. Do not park where the sidewalk is painted yellow.
The tree-lined zocalo is a nice place to stop for a rest and to take pictures. The church directly across from the zocalo is the Cathedral of San Gervasio and is open to the public. Valladolid is a perfect town to walk around and explore. We parked our car and just wandered the streets and the shops.  
Where to eat:
If you are facing the front of the Cathedral of San Gervasio, to your left is a restaurant called El Atrio. They have garden seating in the back of the restaurant that makes for a perfect lunch on a hot day, surrounded by trees, great music, and attentive waiters. Most importantly, they have an excellent bartender that serves up fabulous mojitos! Their tortillas are fresh, hand-made and delicious, as are their meals. They have a nice selection on their menu from traditional Yucatecan to more standard Mexican fare.  
After lunch, head left out of the restaurant and walk till you see La Michoacana on your right. It´s a great spot to get a delicious ice cream cone.
How to get there:
There are a number of tour companies that include a quick stop in Valladolid with their Chichen-Itza tour. However, renting a car is a great way to experience this small colonial city and the surrounding area at your own pace. The drive is easy and only takes about an hour and a half. From Playa del Carmen follow Avenida Colosio to the new cuota (toll) road and follow the signs for Valladolid.
Don´t miss:
The Convent of San Bernadino de Siena was the first church built in America (1552). We ran out of time during our visit, but it is on the list for our next trip to this beautiful, colonial city!