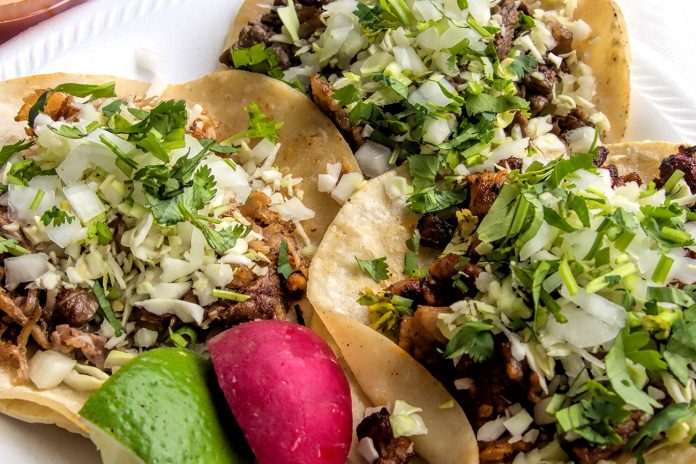 4 lb boneless pork shoulder (or pork butt) cut in half
½ cup vegetable oil
½ cup lard
2 cups water
1 onion, chopped
8 garlic cloves, chopped
3 bay leaves
½ tsp cumin
½ tsp marjoram
½ tsp thyme
1 tsp oregano
1 tsp chile
1 tsp salt
Carnitas-recipe
Preheat oven to 232°C. Heat the oil in a large oven-proof pot, add the pork and brown on all sides. Add the rest of the ingredients and cover. Bring to a boil, then reduce heat to medium, simmer, occasionally stirring until the pork is fork-tender and the liquid has almost entirely evaporated, this will take approximately 2 hours. Discard the bay leaves. Place the uncovered pot into the preheated oven and let it crisp up in its own fat for 20 to 30 minutes. Prepare the sides including diced onion with cilantro, tomatillos made into a spicy salsa verde or roja, thinly sliced radishes and lots of lime wedges and tortillas. Place the pork on a large platter or wooden plank and instead of separating the meat in advance, for a fun interactive dinner, have everyone pull their own pork pieces with a fork surrounded by the above sides. For added authenticity, make or purchase some chicharrones (pork cracklings/rinds), to serve alongside.
Hints.
Some recipes call for beer, coca cola, orange juice or cilantro to be added to the pork while it is braising. Experiment the next time and create your own version of carnitas.
Place the bay leaves in a cheesecloth, so you don't have to try and pick them out later.
This dish can be easily prepared the day before through the stove top steps, then finished in the oven just before serving. You can even make all the accompaniments in advance.
Have any carnitas left?, make some tortas (pulled pork sandwiches) the next day.