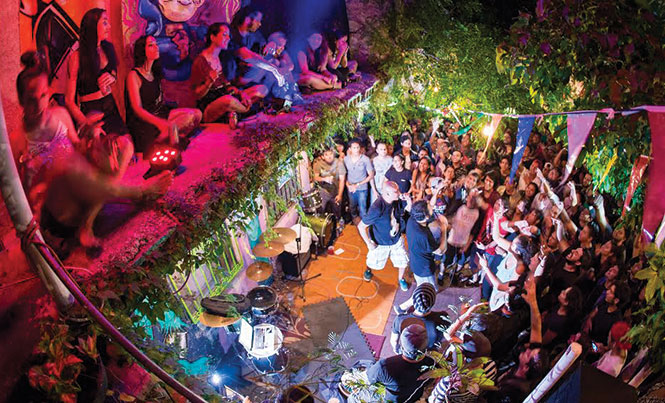 Urban Cuisine, Gallery and Much Mora!
Have you ever watched a movie that had a really cool place in it, such as a bar or restaurant, that was filled with equally cool people? The kind of place that looks like a warehouse from the outside and requires a secret password to get in? Somewhere safe and colorful on the inside?
Mora Mora is that kind of place. It has neither an official entrance nor a sign, just a metallic gate covered in graffiti and a black door. The graffiti – which is actually a mural – was recently added to prevent newbies from getting lost. Having some rhythm while knocking is the password to access Mora Mora's hidden restaurant, gallery and backyard bar.
They have live shows almost every day, with both local and international artists. Folk, reggae, hip-hop, you name it. Their dinner and music small gigs are intimate and are usually from Wednesday to Friday. Their bigger shows, which mostly take place in the backyard on Saturdays, are very intense. Punk rock intense.
Mora Mora is also a household name when it comes to graphic design, graffiti culture, and visual arts. In the past year, they have showcased some of the most important creators from the Riviera Maya and Cancun, in their gallery and on their walls. They recently started a stand-up comedy night, and from time to time host a record exchange. Vinyl collectors can find rare gems here at ridiculous prices. I got some Nina Simone 45s that I had never seen before. It is also the only 4:20-friendly bar in Cancun.
Mora Mora is not just a millennial playground. It is a restaurant and the food is great. It is run by chef Christian Mora, and they recently released their fifth season menu which now includes some Thai and vegetarian options that are to die for. So what are you waiting for?  Discover "El Mora" before it goes mainstream.  Facebook/Mora-Mora-1434309116861854