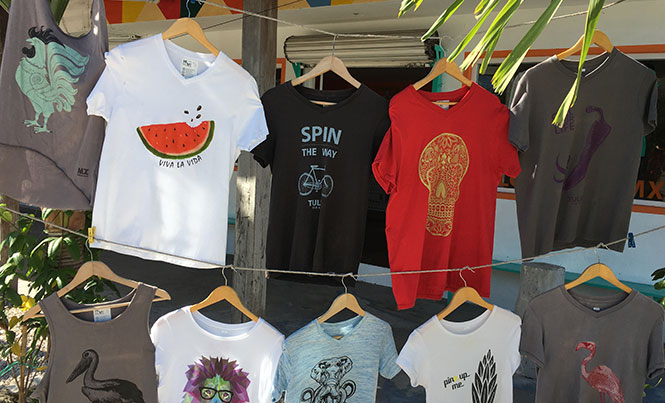 Get to know the clothing company from Tulum that captures the spirit of the area
If you have spent a lot of time in Tulum, you have likely seen locals around town sporting WELOVE shirts and tank tops. Exuding the total laidback and carefree atmosphere of the area, they feature casual, comfortable styles. WELOVE is a relatively new addition to Tulum, but they have quickly found the right way to embody the spirit of the region and those lucky enough to experience it.
WELOVE began in 2014 after fate introduced two total strangers, inspiring a friendship and business partnership. Antonio Lira and Angela Monaco had both moved to Tulum from big cities to find a more relaxed way of living and to be more in tune with nature. The new lifestyle that they found here proved to be refreshing and inspiring. Just two months after meeting, they opened the very first WELOVE store in Tulum.
Much of the inspiration for their fun, whimsical designs comes from the lifestyle of Tulum. It is based on the experiences that are unique to this place. But their most important inspiration is love. "Tulum is a tiny metropolitan town, full of culture from all over the world," Angela explains. "It is the ideal place to learn and grow." This is such a fitting description for what has attracted so many of us to the area. It's no wonder we're all drawn to products created in a community nurturing that mentality.
Recently they have expanded from their two locations in Tulum and their shop in Holbox with the opening of their online store. It's intended to help spread the word and share the great message born here in Tulum to the world. If you are in Tulum or Holbox, make sure to check out one of their stores. Or visit their website: www.welove-store.com. You can have their great designs delivered right to your home.