StrEAT Park Playa del Carmen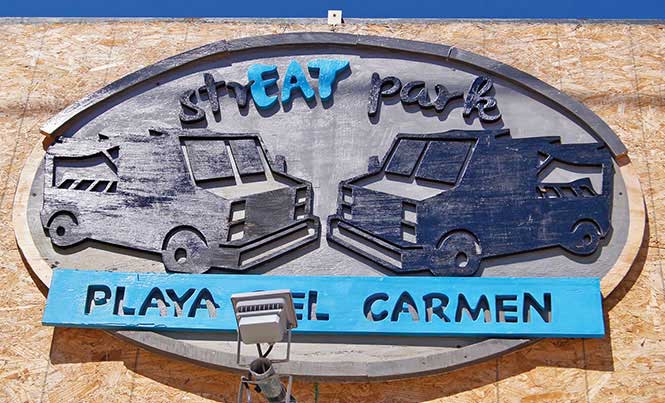 The first food truck park in town
This friendly park is the first one in town and opened a little over a year ago. It now has a total of five food trucks on the premises and even a bubble soccer field. StrEat Park is part of Playa Amigable, for an environment without discrimination. Alejandro Belmonte, from the LGBT movie, Cuatro Lunas, recently visited StrEat Park with the crew of  Ecos of the Queer Film Festival, a monthly LGBT movie projection.
The park has live bands and DJs twice a month, affordable food and convenient restrooms. It also attracts locals with its great variety of gastronomic Mexican products.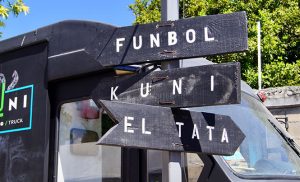 El Tata Food Truck serves a large variety of very good burritos, alambres, garnachas, costras de queso and pasta. It is typical tasty Mexican cuisine.
Enchilame Otra offers enchiladas and tecolotas. The 'Borracha', recommended by Sandra Yamamoto, the owner, is one of the best tecolotas on the menu and has the perfect spicy kick you are looking for!  
Rodri and Angeles from the El Bunker opened their food truck serving gourmet hamburgers in different sizes. They also sell their delicious homemade sauce – a must. The 'Bunker' is their signature dish and it is a delight.
Porkavana is the newest member of the park and has healthy yet tasty food. Diana and Ramond believe that those two concepts get along and it is proven with their delicious salads and pitas. The 'Porkavana' and the 'Veggie Pita' are top of the list.
David Arista established Funbol in September. It is a recreational, and I must say, intensely fun game with inflated balls on a soccer field. Various versions of the game are available for all ages. Warning, you must be somewhat in shape, otherwise you will last only two minutes!  
Stay tuned for the next LGBT event in this centrally located food truck park on Constituyentes between 60th and 65th Avenue.  
Facebook/El-Tata-FoodTruck-1629293117306598/
Facebook/Porkavana-Snacks-Salads-263063867464853/