Foodies
Book & Feel
A new website is making it easy for tourists and food lovers to make reservations at their favorite restaurants, as well as discover events dedicated to gastronom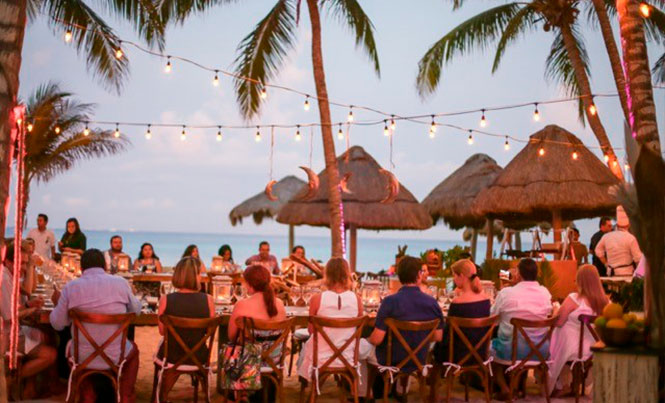 A few weeks ago I was invited to attend a pre-Hispanic dinner at the Skylights restaurant in the Hotel Princess. It was an incredible gastronomic experience, created by guest chefs from Cancun. The event was arranged by Book & Feel, an application designed for reservations at different restaurants in the Riviera Maya. In this interview I spoke to Dania, who is a representative of the company.

The Playa Times: What is Book & Feel?
Dania: It is an application for broadcasting different offers from restaurants that are located from Playa del Carmen to Tulum. It uses a reservation system to simplify the process. Our reach is mainly to concierges in hotels, butlers or people that offer a service to guests, but it is now being used by locals who want to experiment with new ideas of where to eat.

How does it work?
Concierge or personnel that send us regular reservations are called "Bookers". We take charge of simplifying the interaction between the Bookers and restaurant owners, considering that it is of primary importance to maintain contact between the two parties so that the Booker can recommend restaurants. Tastings, hotel visits and information gathering is all done on the webpage, so the Booker always has access to the information necessary to make the reservation on the page.

Why offer this service?
There are many restaurants and chefs with gastronomic ideas that are different and interesting, so it is important to diversify recommendations in the hotels. For some time the Riviera Maya has been offering events promoting recognized local and international chefs, product lines and Mexican beers, so we have to get to know them in order to recommend them.It is also important that places make an effort to participate in these events to make Tulum and Playa del Carmen rich destinations for gastronomy. Book & Feel is the perfect option for food lovers. Generally it's people aged 25 to 35 who reserve for their guests and 35 and up who have used the webpage for personal reservations, the majority of which are promotions.
We have been working in Playa del Carmen for two years; now we are setting up in Tulum, each time with more restaurants and events. Soon we will have plans laid ready for Cancun.

What restaurants do you work with?
Le Chique, Axiote, Ohlalá by George, La Chula en Tulum, Skylights at the Princess, Fuego in Hotel Mahekal, Sushiitto, among others.


Contact:
dania@booknfeel.com
9841342913
Fcb: Book & Feel
Ig: @booknfeel
Tw: booknfeel