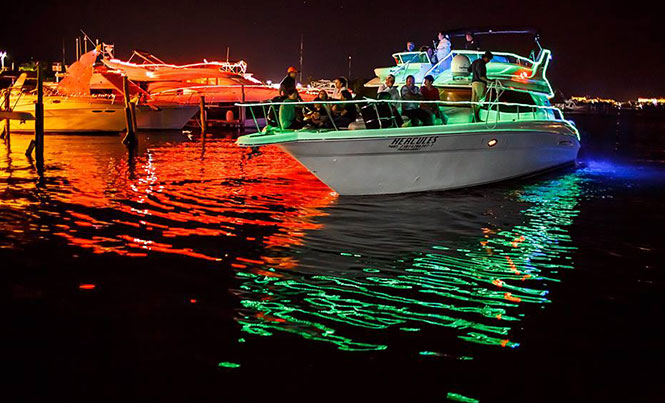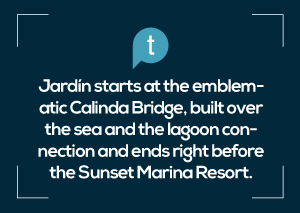 Winter's low temperatures finally allowed us to rock all those sweaters, hoodies, jackets and ponchos that we confined to closets and silica gel bags during the rest of the year. We hardly get to wear those clothes in Cancun. I'm talking outdoors, of course, because all the office ACs are always really cold.
One of the best spots in Cancun to enjoy a chilly evening walk (or a romantic date) is Jardín del Arte, a walking corridor located at the beginning of the Kukulcan Boulevard that runs along the Nichupté Lagoon. Jardín starts at the emblematic Calinda Bridge, built over the sea and the lagoon connection, and ends right before the Sunset Marina Resort. There are lots of things to see, the view from the bridge is amazing and the biggest Mexican flag in the state waves right in front of it. There is also a sculpture area and many kiosks where locals eat. They hang their hammocks on sunny days after going to Playa Langosta, which happens to be right across the street!
Jardín del Arte usually hosts a little street market on weekends organized by Manos Mágicas, offering local products, food and handcrafts. They also coordinate with Sunset World, one of my favorite events of the year: The Sunset Boat Parade. This colorful parade took place a couple of weeks ago and it had a great reception from both locals and tourists.
After three previous editions, the festival has already gained some popularity. This year they added live jazz music to the combo and the fireworks were simply amazing. The decorated boat parade as usual didn't disappoint. I was glad to see more members joined the yacht club this time.
Jardín del Arte has more events prepared to start 2018 and The Playa Times will continue to let you know all about them. Happy New Year!