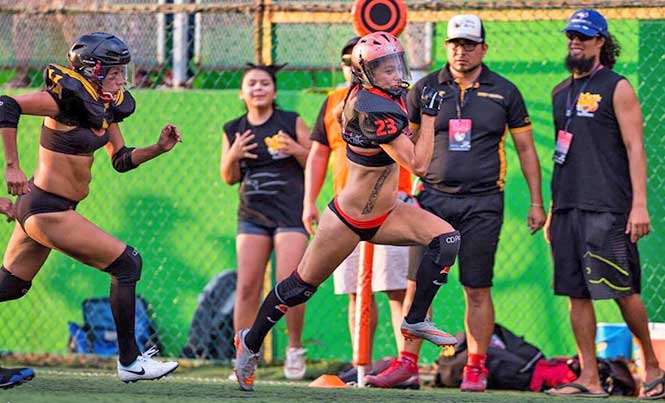 The Cancun guide to alt-football events
Cancún is one of the few places in Mexico where football and football-related sports are more popular than fútbol (soccer). All the public parks and beaches are filled with children playing what's commonly called tochito (flag football). It's really popular in all the schools.
The main football juvenile league is called Ofase and the whole peninsula is affiliated; Cancun has 60% of the teams. Young women are taking part just as much as men. I would say there are 50/50 boys and girls in the under-20 league.
In the older categories, there is even a Cancun bikini football team representing the whole state in the Mexican Women's Football League (WFL). The team is called the Patriotas and after a year of hard training, they just debuted a couple of months ago, winning at home.
The next local game will be on July 1, against the Jets from Mexico City. They will be playing at the Pepe Gomez field, which is at the sports complex next to the planetarium, behind the baseball stadium. Most of the players started in the local league (LFB) that concluded on June 17, with the Bucaneras from Cancun competing for the trophy against the bi-champions, Playa del Carmen's Barracudas. I'll announce the winners in the next edition.
Every year Cancun also hosts an international event for the sport of rugby. Although it is not as well known it does have a league here. The third Cancun 7s takes place on July 1, at La Salle University from 7 a.m. to 7 p.m. 12 women's and 16 men's teams are confirmed. There are usually a couple of teams from the USA and UK competing, and I hope to see them again this year.
For more info, see Facebook:
@Patriotasfootball